In a multi-part series, Comic Book Film Editor William Gatevackes will be tracing the history of comic book movies from the earliest days of the film serials to today's big blockbusters and beyond. Along with the history lesson, Bill will be covering some of the most prominent comic book films over the years and why they were so special. Today, the success of X-Men and Spider-Man send studios looking for adaptations at smaller comic book publishers.
By 2003, movies from comic books were a big deal. The success of the X-Men and Spider-Man films indicated that there was gold in bringing comic characters to life, and Hollywood wanted to get in on it.
Unfortunately, most of the big guns were taken. Sony had Spider-Man and Thor, Fox had the X-Men, Fantastic Four, and Daredevil. Universal had the Hulk, and any DC Comics characters had to go through parent company Warner Brothers first.
Luckily for producers all over town, the comic book industry had expanded so there were a number of other viable companies putting out comics, all with characters ready to be brought to the big screen. Well, the powers that be might have thought they'd be ready. But as we'll see, sometimes audiences thought differently.
Bulletproof Monk, the comic, was a comic book by committee. The concept was originated by two men who never put fingers to keyboard, nor ink to Bristol board. Michael Yanover and Mark Paniccia created Flypaper Press and a content farm for their ideas, which they would hire writers and artists to flesh out and produce.
One of these concepts was one that would take the Asian Kung Fu film, move it to a city and add Star Wars type mysticism to it. They hired Michael Avon Oeming, who would later gain fame working on Powers, to do the art and asked relative newbie Brett Lewis and indie veteran R.A. Jones to do the writing. Gotham Chopra, son of Deepak Chopra, was brought in as a consultant on the Eastern mysticism in the story. And that story became Bulletproof Monk.
Yanover and Paniccia started shopping the concept to Hollywood before the second issue even came out. They got interest from John Woo, whose movies were an inspiration for the concept. Woo eventually agreed to produce the film. His frequent collaborator, Chow Yun-Fat, was cast as the titular monk. Heath Ledger might have made his comic book film a few years before his turn as the Joker in The Dark Knight, as he was in line to star as the Monk's assistant, Kar. He dropped out to accept a role in The Order, and Seann William Scott took his place.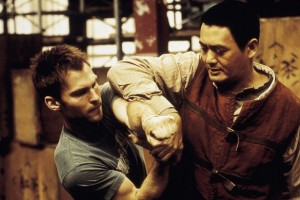 If Yanover and Paniccia were thinking they might have a Men in Black style underdog hit on their hands, they were sorely mistaken. The film opened to horrible reviews and only made $37 million worldwide against a $52 million budget.
Bulletproof Monk might have been committee designed to be a film franchise, 30 Days of Night was a comic book concept that went nowhere, was then proposed as a film idea and was shot down, before IDW Publishing decided to publish it as a comic. It is also one of the most inventive approaches to horror to ever come down the pike.
As the film Insomnia told us, parts of Alaska experience 24-hours of sunshine for weeks at a time. The flip side of this is that they also experience 24-hours of night for weeks at a time.
Now, consider if you were a vampire. You have to hunt your prey—humans—for food—blood—in the small window of time you are both awake. The sun is deadly to you, so you stay behind closed doors and windows in the day time when people are out doing their business. And most people stay indoors when the sun goes down, so your pickings are slim—from the late shift workers, college party crowd, etc.
For you, a month of darkness is a great thing. Steve Niles and Ben Templesmith thought so. That's why they wrote 30 Days of Night, a comic about a cadre of vampires that relocate to Barrow, Alaska and use the small town as their personal smorgasbord.
The series sold loads of copies, spawned numerous print sequels, established IDW as a publisher of note, raised the profile of both Niles and Templeton (who were nominated for Eisner Awards, comic's version of the Oscars, for the series), and attracted Hollywood's attention. Yes, the concept that was at first unwanted as both a comic book and a film would end up being a success at both.
In 2002, Sam Raimi's Senator International picked up the rights to the comic. Niles wrote the first draft of the script, which was rewritten by Stuart Beattie and then again by Brian Nelson when director David Slade came on board. Josh Hartnett played the town Sheriff, Melissa George his estranged wife, and Danny Huston played the leader of the vampires.
The film was a success, making $75 million worldwide against a $30 million budget. It was a huge success on home video, which led to a direct-to-video sequel and two prequel miniseries on FEARnet.com.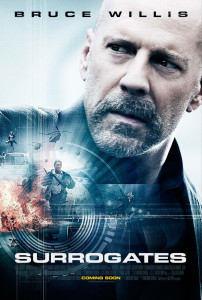 You get the feeling that Disney was itching to get into the comic book film business for a long time, because in 2007 they purchased the rights to the Top Shelf miniseries, The Surrogates, a high-concept story set in the sci-fi genre, for its Touchstone shingle.
The story concerned the future of 2054, where everyone has an idealized, mind-controlled robotic duplicate of themselves that they use for everyday interaction while they stay home in their ugly flesh and blood bodies. When someone starts destroying the Surrogates, which kills the owners in the process, an anti-Surrogate cop needs to get to the bottom of the mystery behind it.
The film, produced in part by Elizabeth Banks, was directed by Jonathan Mostow and starred Bruce Willis as the cop. The cast also included James Cromwell, Ving Rhames  and Rosamund Pike, which would make for a pretty good film, you would think. Unfortunately, critics gave it mostly negative reviews. The film made $122 million worldwide, a disappointing figure when you think it cost $80 million to make.
Whiteout was another high concept comic book series. Published by Oni Press and created by Greg Rucka and Steve Lieber, it is a murder mystery set in the scientific stations of Antarctica. It centers on a U.S. Marshall by the name of Carrie Stetko (Kate Beckinsale) who must investigate the murders of several scientists before she retires her post.
The comic was nominated for a number of Eisner's, but the 2009 film adaptation was not what you'd call award-worthy. Many would pin the blame for the film's flopping ($17.8 million worldwide versus a $35 million budget) on it having a female lead. But the 7% fresh rating it got from critics couldn't have helped. Pity poor Gabriel Macht. This film, in which he plays a UN agent, came at the end of a three year span of completely awful movies he starred in (joining 2007's Because I Said So and 2008's The Spirit).
Next, Kevin Smith's favorite hero gets the big screen treatment, does well, and is never seen again.