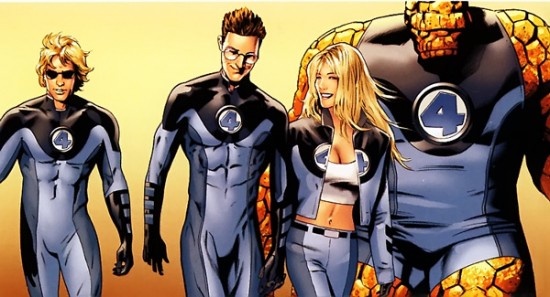 Time to pull back the curtain a bit.
Last month, a casting site reported what was allegedly a short synopsis of Twentieth Century Fox's upcoming reboot of their Fantastic Four comic book adaptation franchise. Like numerous other sites, we reported on it here and our Comic Book Film Editor William Gatevackes noted that some fans may be upset that the film looks as if it may deviate from the more traditional version of the group's origin. He also noted that the site reporting it was an untested one, casting doubt on its authenticity. (Note: the original source, Production Weekly, has their post hidden behind a pay wall.)
The next day the film's director Josh Trank, took to twitter to say that the reported "synopsis is definitely not the synopsis or anything close to the synopsis." That seemed to put an end an end to the story and any further thought or bandwidth given over to the film was allocated to the resumption of speculating over its potential cast.
That is until a few hours ago when I got received an email signed by someone at Fox Group Legal requesting that we take down the plot synopsis. A rather strange request for them to make if the synopsis isn't true, don't you think? Especially when even the notice describes the plot details as "purported."
And we're in good company, as the folks over at SlashFilm got one yesterday.
Why would Fox send their legal attack dog on us over Josh Trank-debunked fake plot details? Unless they are real… :P pic.twitter.com/H4xeVu8U9x

— Peter Sciretta (@slashfilm) February 4, 2014
I suspect that other sites may have received them as well, but as I publish this the story remains intact on a number of outlets.
Anyway, at their request, I have removed the text of the synopsis. However, I have not removed the discussion of the synopsis. Please note, though, that with everything that we discuss and report on here we do so with the understanding that it is protected under Fair Use provisions in US copyright law, specifically section 107 of Title 17 of US Code which reads –
[T]he fair use of a copyrighted work, including such use by reproduction in copies or phonorecords or by any other means specified by that section, for purposes such as criticism, comment, news reporting, teaching (including multiple copies for classroom use), scholarship, or research, is not an infringement of copyright.
I have forwarded an email to the Head of Fox Legal whose name was signed to the takedown request, asking for further clarification. I have also tweeted Josh Trank directly asking for further clarification.
We'll see if we get a response.