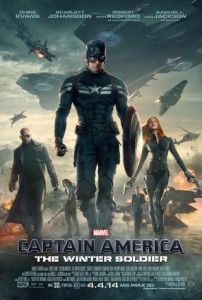 1. Captain America: The Winter Soldier (Disney, 3,938 Theaters, 136 Minutes, Rated PG-13): After what I thought were disappointing efforts in Iron Man 3 and Thor: The Dark World, I felt that chinks in Marvel's cinematic armor were beginning to show. That led me to have serious doubts about this film. Cap is my second favorite Marvel character, and to have his next movie be directed by a pair of brothers with little big screen or action movie experience didn't help matters any.
But the advance buzz for the film has been overwhelmingly positive. The film has an 89% positive rating at Rotten Tomatoes, rarefied air for comic book film. And people have been saying that the film is the best Marvel film to date.
So, yeah, my doubts have been replaced by a giddy, childlike anticipation for the film. I'll be seeing the first showing tomorrow. FilmBuffOnline Head Honcho Rich Drees has already seen the film, and I'm sure his thoughts will be up on the site soon. And, if Rich lets me, my thoughts will be published not long after.