In a multi-part series, Comic Book Film Editor William Gatevackes will be tracing the history of comic book movies from the earliest days of the film serials to today's big blockbusters and beyond. Along with the history lesson, Bill will be covering some of the most prominent comic book films over the years and why they were so special. Today, we talk about a successful creator-owned franchise turned film franchise, Hellboy.

Last installment, we talked about Dark Horse Comics and how the success of its Aliens and Predator licenses cause it to expand its operations. One of the most notable expansions came in 1994 when they started the Legend imprint.
Legend was a boutique imprint started by comic book legends Frank Miller and John Byrne to showcase creator-owned titles from the pair, all published by Dark Horse. It was here where Miller's Sin City was home to, for instance, and Byrne housed his Next Men series. It was an answer to Image Comics, the other imprint started by superstar creators for their own creator-owned properties, only for superstars that might not be as young or hot as the Image 7. Invitations went out to a number of comic creators to join Miller and Byrne, and one of the creators who agreed to become part of Legend's starting line up was Mike Mignola.
Mike Mignola was a comics veteran at the time Legend began, with over a decade's experience. He got his start as an inker at Marvel Comics before moving on to become a pencil artist on titles such as Rocket Raccoon, Incredible Hulk and Alpha Flight. He also provided numerous covers for all companies, and eventually moved on to work on diverse projects ranging from blockbuster crossovers such as Cosmic Odyssey to esoteric fare such as Fafhrd and the Gray Mouser.
Hellboy started out as a convention sketch Mignola did for a fan of your general, garden variety demon.  But Mignola liked the name so much that when the time came to create an original character of his own, he built a hero around the name.
Originally intended to be part of a superhero team, Mignola decided to focus on Hellboy exclusively when he couldn't come up with a good name for the unit. Hellboy was a demon from hell summoned to Earth by the Nazis during the last months of World War II. The Nazis intended to use the demon against a squad of attacking Allied Forces, but unfortunately for them, they plucked an infant demon from Hell. The child demon was no use to the Nazi's, who were quickly overrun. The demon baby was then adopted by the American forces. In a case of environment overriding heredity, the demon grew up to become a rough and tumble monster hunter dubbed Hellboy.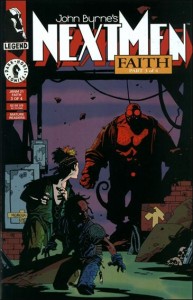 Hellboy quickly became success for Legend and Mignola. As a matter of fact, the series outlasted the imprint, which folded in 1998, by 16 years and counting. Adventures of  the character continue to this day, and the series has spawn a number of spin-offs and tie-ins over the years. And with that kind of success comes attention from Hollywood.
Luckily for Mignola and his creation, that attention came from celebrated director Guillermo del Toro. The Mexican director had burst on the scene with Chronos and Mimic and was coming off the biggest hit of his career in Blade II when a chance to adapt Hellboy came his way. A fan of the comic, del Toro used his new found clout to protect Hellboy on his journey to the big screen. When the studio insisted he cast Vin Diesel as Hellboy, del Toro stuck by his and Mignola's original original choice of Ron Perlman. When the suits wanted the character's origin changed so that the character was a human and not a demon, del Toro preserved the character's comic book origin. In 2004, del Toro delivered us Hellboy.
The result is a very good film.del Toro was a big enough fan to capture the Lovecraftian pulp noir of the comic book, but was also a skilled enough director to make the film entertaining. Hellboy adapted the series first story arc, Seeds of Destruction, in its entirety–with Easter eggs from other stories thrown in for good measure. Perlman made a pitch-perfect Hellboy, capturing the tough guy persona the character needed and deserved expertly. The rest of the cast were solid, if not entirely famous names, who worked well together and built a believable universe out of the outlandish property.
The film made just over $99 million worldwide against a $66 million dollar budget, which was hardly the stuff sequels are made from. But it's success on the home video market earned it a shot at a follow-up. del Toro returned four years later to bring us Hellboy II: The Golden Army.
The film was originally supposed to come out in 2006, but its original studio, Revolutionary Pictures, went out of business. Universal Pictures stepped in to pick up the reins. del Toro decided not to adapt a story from the run in the comics, but instead focus on an original story taken from  folklore–an ancient war between the elves and humanity. If the first film featured Lovecraftian beasts taken directly from the comics, this film featured myth-inspired beasts that would be right at home in the film del Toro did before Hellboy II, Pan's Labyrynth.
If the first Hellboy barely backed into a sequel, that would not be the problem here. Hellboy II almost doubled its $85 million budget with an worldwide gross of over $160 million dollars. However, a second sequel would not be soon coming. del Toro got involved with making the Hobbit film for a while before backing out of directing that film, and then moved on to Pacific Rim. But during the publicity rounds for that film last year, both del Toro and Perlman stated that they would be interested in making a third Hellboy, but it appears to be in the early stages at best.
Next time, we'll discuss one of Marvel's most popular characters two appearances on the screen. Yes, we have finally made it to the Punisher.