In a perfect world, UHF would have been a hit. It starred and was co-written by Weird Al Yankovic, who was coming off one of his many "comeback" albums, Even Worse and was well on his way to becoming a pop culture icon. It featured an eclectic cast full of recognizable faces: Michael Richards, Victoria Jackson, Kevin McCarthy, Fran Drescher, Billy Barty, Gedde Watanabe and John Paragon. And the film tested higher than any Orion Pictures release since the original RoboCop.
Unfortunately, the film opened in the same summer as Batman. And Lethal Weapon 2. And When Harry Met Sally. And Honey, I Shrunk the Kids. And License to Kill. And Indiana Jones and the Last Crusade. And Weekend at Bernie's. And Ghostbusters 2.
Yankovic started talking over the idea of doing a feature film with his manager Jay Levey not long after his breakthrough album, In 3-D, made Weird Al a household name. The pair would work on the script for the planned film over the next couple years before joining up with producers John Hyde and Gene Kirkwood, who in turn brought it to Orion Pictures.
Given a budget of $5 million dollars, Yankovic and Levey, who stepped in to direct the film, started shooting the film in Tulsa, Oklahoma with interiors shot on soundstages in Los Angeles. Yankovic would play George Newman, a daydreaming fast food worker who is given the deed to a run down UHF station under heavy debt. All attempts to run it as a conventional television station fail until one day, in desperation, he allows the station janitor Stanley Spudowski (Michael Richards) take over the reins of a flailing kid's show he was starring in himself. Audiences respond to Spudowski's weird and unusual antics, so Newman builds an entire line-up of weird and off-center shows in the mold of that show, including game shows such as Wheel of Fish and low rent animal shows such as Raul's Wild Kingdom, done out of the host's apartment. The station becomes so much of a success that the competing network affiliate's owner R.J. Fletcher (Kevin McCarthy) aims to put Newman out of business at any cost.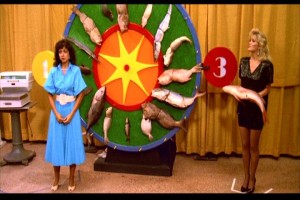 Victoria Jackson was cast as George's long-suffering girlfriend, Teri. Fran Drescher and Billy Barty played the station's unlikely news team. Gedde Watanabe portrayed the karate-teacher/host of Wheel of Fish. Trinidad Silva was cast as Raul or Raul's Wild Kingdom, but tragically was killed by a drunk driver with only a few scenes filmed. The film is dedicated to his honor.
The film was released 25 years ago today and died about as painful a death a film can at the theaters. Even though it was the week's  biggest release in terms of theater count (1,295 to Shag: The Movie's 850), it's opening weekend gross was only $2,251,831, good enough for only 11th place on its opening weekend. Although the film made $6,157, 157 at the box office, more than $1 million over its budget, it was deemed a disappointment by an Orion Pictures who was expecting–and needing–a big hit.
The film started a lull in Yankovic's recording career and also, it would turnout,  provide him with the way to climb out of it. The film's soundtrack peaked at #146 on the album charts, only his disappointing 1986 Polka Party album would peak lower. It would take Yankovic, who was averaging an album a year, three years to make his next album.
By that time, Grunge had taken hold and Yankovic had found the perfect song to parody–Nirvana's breakout hit, "Smells Like Teen Spirit." The only problem is that Yankovic's manager could not get Nirvana's approval for a parody. Here's where Yankovic's UHF co-star Victoria Jackson enters.
Yankovic contacted Jackson, who was in the cast of Saturday Night Live when Nirvana was the musical guest on the show, and implored her to put him in contact with someone from the band. Jackson complied, putting Nirvana frontman Kurt Cobain on the phone. After a phone call that lasted only several minutes, Yankovic got Cobain's permission to parody the song. That parody, "Smells Like Nirvana" appeared on Yankovic's 1992 album Off the Deep End, an album that kickstarted Yankovic's career renaissance. That album peaked at #17 on the album charts. No Weird Al Yankovic album from that point on would peak any lower that #46 on those charts, and that album, 1993's Alapalooza,  was the only album of this period to peak outside of the of the top 20.
During this time, Yankovic toured extensively. As part of his live shows, he underwent numerous costume changes, and during these changes, he would often play clips from UHF for the audience. The film also became a staple of cable television, airing numerous times on channels across the country.
This increased exposure corresponded with a rise of dumb and silly fun movies such as 1994's Ace Ventura: Pet Detective and Dumb and Dumber proved there was an audience for UHF's silly comedy, it just came around five years too late.
The result is that film has become somewhat of a cult classic. And as  the audience for Yankovic's music grows (his last two albums, Straight Outta Lynwood and Alpocalypse both debuted in the top ten and his most recent album, Mandatory Fun, released just last week, is being predicted to be the first Weird Al Yankovic album to debut at #1 on the album charts), more people are discovering UHF. And while Yankovic is experiencing his greatest chart success 31 years after his first album was released, Maybe UHF is finally getting the respect it deserves 25 years after it hit theaters.