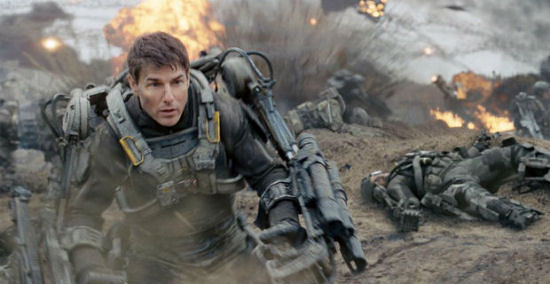 Back in June, I reported that Warner Brothers was doing some marketing surveys on the title and promotion for the Tom Cruise science-fiction adventure film Edge Of Tomorrow. What was unusual in that was the fact that the film had already been in release for several weeks. At the time I speculated that Warners was looking to see why the film wound up underperforming at the box office for them. Now we know what they are really up to.
For Edge Of Tomorrow's upcoming blu-ray and downloadable video release, it appears as if the studio has gone ahead and retitled the film Live Die Repeat: Edge Of Tomorrow.
The recently released cover art for the film shows that the studio is emphasizing the phrase "Live Die Repeat" that was used in the advertising for the theatrical release on both the cover and the spine. Notice how buried the Edge Of Tomorrow title is. And it gets worse on the iTunes page for the film (screenshot via SlashFilm) as the studio really tries to conflate the "Live Die Repeat" catchphrase with the film's title.
Note that the "Live Die Repeat" phrase was one of the things that the post-release surveys from June were focusing on, asking respondents whether it would have made a better title than Edge Of Tomorrow. Looks like the studio got their answer.
Of course, this isn't the first title change the film has gone through. The project is actually an adaptation of a Japanese novel titled All You Need Is Kill, which is the title it was shot under. It was only after production wrapped that Warners announced the change to Edge Of Tomorrow, a name I said at the time sounded like a 1970s soap opera.