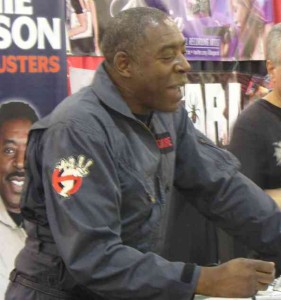 It's time for my least favorite pastime: what rumor is El Mayimbe spreading today. The often-wrong head honcho of Latino Review has scoop that says Ernie Hudson is circling the role of T'Chaka in Black Panther. El Mayimbe's proof? Hudson has been hitting the gym and picking up back issues of Marvel Comic's Black Panther featuring the character.
El Mayimbe doesn't reveal his source, perish the thought, but if I were a betting man, I'd put money on Hudson's agent. This story has the feel of that classic Hollywood chestnut of an actor's representative planting a story about a studio looking at their client in order to drum up interest from said studio.
Don't get me wrong, I like Hudson as an actor. But his career is firmly in the B-Movie/TV guest appearance mode, not the type of star Marvel typically leans to for roles like this. Granted, T'Chaka, who is the king of the fictional African nation of Wakanda and father to T'Challa, the titular Black Panther, isn't a big role, but it is a pivotal one. Judging from Marvel's casting history, it's likely they would consider an actor with a higher profile and perhaps a better resume than Hudson.
Another thing to consider is that as of yet no director has been announced for the film. Unless T'Chaka is going to appear in another film before he appears in Black Panther, I'd expect a director be picked first before any supporting character.
However, I do believe in doing due diligence, so I contacted one of my go-to sources, one that always guides me down a truthful path, and one that is as reliable, if not more so, than any of El Mayimbe's sources. I contacted "Ask the Eight Ball." It said "My Sources Say No" when asked if Hudson was up for a role in Black Panther. So, there you have it.