While a good number of people might know her as the woman who sexily ate hot dogs suspended from the ceiling or jumped into a huge pie crust filled with chocolate pudding while wearing a maid's outfit, Olivia Munn has carved out a serious acting career since she left Attack of the Show. That career has led her to stepping into the spandex of one of the most popular X-Men in X-Men: Apocalypse. Munn has been cast as Betsy Braddock, aka Psylocke, the telepathic ninja mutant co-created by Chris Claremont and Herb Trimpe.
Telepathic ninja mutant? Yes. And that description only scratches the surface of the complex origins of the character.
Claremont and Trimpe created Braddock to be a supporting character in the Marvek UK comic, Captain Britain, writing her into continuity as the twin sister of the titular hero.
Claremont introduced Betsy to American audiences in New Mutants Annual #2, and soon made her part of the X-Men. But her popularity didn't really take off until a storyline where here consciousness was swapped into the body of a Japanese assassin named Kwannon. The new status quo, aided by characterization added by Claremont, Jim Lee, Marc Silvestri and others, made her one of the breakthrough characters to come out of the mutant books in the 1990s.
At the height of her popularity, Psylocke's main power was telepathy, which showed itself in the form of a "psychic blade" that extended from the back of her fist. Her new body gifted her with the skills and talents of the ninja, and she eventually gained the power to teleport amongst the shadows.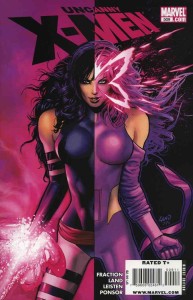 If you had a hard time understanding all of that, don't worry. It's dubious little, if any, of that backstory will make it into the films.
This will mark the second appearance of Psylocke in Fox's X-Franchise. The character, portrayed by Meiling Melancon,  appeared as one of the cadre of mutants Magneto led in X-Men: The Last Stand. If you missed her in that film, it was probably the part of the film where you blinked. The lackluster showing in that film didn't sit well with fans.
Thankfully, Bryan Singer insured that X-Men: Days of Future Past eradicated X-Men: The Last Stand from the film's continuity line. Psylocke isn't the only character from that film that will be reinvented in X-Men: Apocalypse. Angel, who was played by Ben Foster in the 2006 film, will return in the new film, portrayed by British actor Ben Hardy.
We don't know exactly how big of an appearance Psylocke will be making in this film, but Olivia Munn has received some good notices for her work in The Newsroom and Magic Mike, so the role should be larger than it was in 2006. This marks the second comic book film for Munn, as she appeared in a small role in Iron Man 2.
Via: Coming Soon.