If rumors are to believed, Warner Brothers does not have faith that Hal Jordan alone can bring fans out for a Green Lantern film. Early rumors had him sharing a film with the Flash, and the latest has him sharing the screen with one or more Earth-bound Green Lanterns.
Collider is reporting on rumors they have heard that Warners will be presenting a "Green Lantern" by committee when the character returns to the big screen on June 19, 2020. There will be no less than two Green Lanterns on screen at any time, with the possible line up of Lanterns changing from film to film if sequels are warranted. The Hal Jordan Green Lantern appears to still be in the mix, but will will be joined John Stewart and possibly Guy Gardner according to the website.
Created by Denny O'Neil and Neal Adams in 1972, Stewart is a former U.S. Marine turned architect who the Guardians of the Universe had selected as back-up to Hal Jordan. Stewart had the opportunity to fill in for Jordan on occasions, before the One Green Lantern per jurisdiction rule was eventually lifted and he got a ring for permanent use.
John Stewart is probably most well known to the non-comic book literate. He was the one who wielded the ring in the Justice League Unlimited cartoon than ran from 2004-2006. He was also supposed to appear in George Miller's abandoned Justice League film, being played by rapper Common.
While John Stewart was created as a back up to Hal Jordan, he wasn't the first. That honor falls to Guy Gardner. Created in 1968 by John Broome and Gil Kane, Gardner was originally a candidate for getting the ring that Hal Jordan got, but since Jordan was closer to Abin Sur, the dying alien bequeathing the ring, Jordan ended up with it.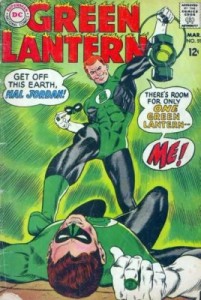 Gardner was originally a rather bland character until a series of head injuries and some time spent in the Phantom Zone changed him into an Alpha Male to the extreme, complete with unfettered ego, groundless machismo, and a rather sexist attitude towards the ladies. This personality was used for comedic effect in 1987's Justice League comic. It's there where the former footnote became one of the most popular characters in the comics.
No details as to how all the Earth-bound Lanterns will be introduced, or if other Earth ringbearers from the comics such as Kyle Rayner or Simon Baz will also get screen consideration. However, it does seem like Green Lantern will be picking up the story in progress, and not presenting another origin for Hal.
Collider also thinks that one or more of the new Green Lanterns will appear in the Justice League films before appearing in their own film. The site also hints that Warner's plans with the franchise will be announced at the studio's Hall H presentation at next month's San Diego Comic Con.