It's been a while since Entertainment Weekly has run an article about how much they hate comic book films. But there has been no shortage of exclusive photos from comic book films of late, though.
This week's issue (not this month's, like The Beat would have us believe), gives us exclusive glimpses of what the forthcoming X-Men Apocalypse will look like, with the first look at a lot of the characters. Here are the pictures, with my commentary below them.
Here we get a good look at Storm (Alexandra Shipp), Apocalypse (Oscar Issacs) and Psylocke (Olivia Munn). It looks like Storm and Psylocke will be teaming with the bad guys at least for part of the film. Storm is rocking the mohawk Chris Claremont and Paul Smith gave her in the 80s. Psylocke has one of the most accurate costumes in scomic book film history, and, bless her heart, Munn has the chops to pull it off. And what can we say about Apocalypse? His comic book look is one that would be hard to pull off on screen, but he looks more like obscure Avengers villain Thane Ector than Apocalypse.
Good news for any of us who wish we could have seen more of Quicksilver (Evan Peters) in Days of Future Past, because it looks like we'll be getting to see more of him in this one. And it looks like Mystique (Jennifer Lawrence) will be going back to blending in with humanity in this film (unless they will be making her make up CGI).
Magneto (Michael Fassbender) looks absolutely dreamy in a flannel shirt he got at Sears.
No that is not Jessie Eisenberg as Lex Luthor in the background, it is Lucas Till playing Havok. He is joined by Mystique, Beast (Nicolas Hoult), Moira McTaggart (Rose Byrne) and a still not-bald Charles Xavier (James McAvoy)
Bryan Singer giving his actors some advice.
Sophie Turner as Jean Grey.
Lana Condor as Jubilee. It looks like the last film didn't just do away with X-Men: The Last Stand, but messed with the continuity of all the films. Jubilee has already appeared in the irst two installments of the franchise as a present day student of the Xavier Academy. That's a pretty long matriculation if she started there around 1983.
Another continuity anomaly is Nightcrawler (Kodi Smit-McPhee). He has the same brands on his face that Alan Cumming had in X2: X-Men United, but nobody in that film seemed to recognize him. Not even Mystique, who is mentoring him in this film.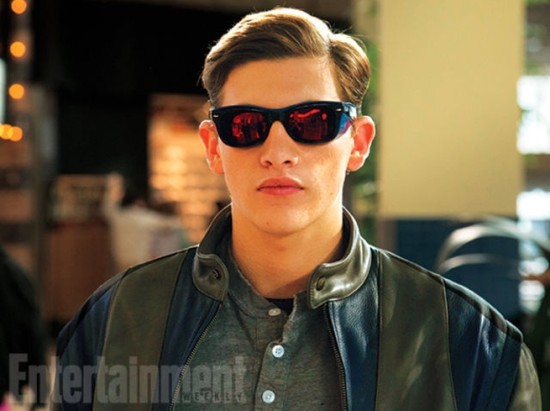 Cyclops (Tye Sheridan)
A better look at Storm and her Mohawk.