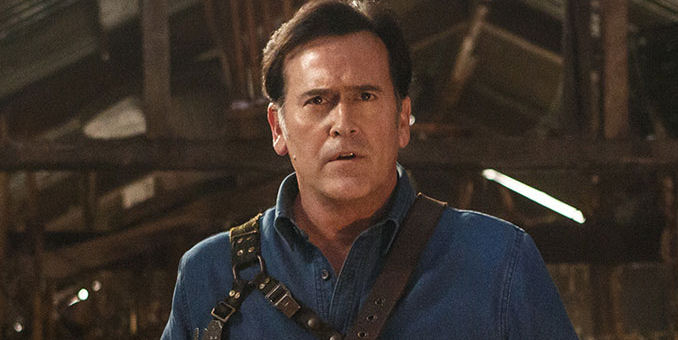 Last October we told you about how the attempt to bring a fourth Evil Dead film to the big screen mutated into the now hit Starz series Ash Vs Evil Dead. Franchise director Sam Raimi stated that the ideas he and his writing partner and brother Ivan Raimi "would be another fake spectacular but it would just be too expensive" eventually led to the idea that continuing the adventures of the dopey Ash against the unending attacks of the demonic Deadites in a different medium.
Franchise producer Rob Tapert, whom Raimi claimed was the one who first made the suggestion of taking the franchise from the big screen to television, is now suggesting that Ash and company could eventually make their way back to theaters following their television adventures. Speaking with the press backstage at San Diego Comic-Con this past weekend, Tapert stated –
Sam [Raimi], bless him, talked about doing Evil Dead as a movie for many, many years and teased the fans forever and a day. Finally when the day came, we went, 'Well, we think it might be better as a TV show.' That was other people who thought that and Bruce really welcomed the idea and I welcomed the idea because Bruce said, 'Look, I did three movies. I'm not certain I knew my last name so at least in a TV show I get to explore the character and who he is and all that more.' Is there a movie out there that we are thinking about that would continue on that would merge everything? There certainly are those thoughts starting to percolate.
Star Bruce Campbell chimed in, also suggesting that a fourth silver screen installment could be in the franchise's future.
The movies were dead. Now the TV show comes back, the movies come back to life. It's funny how that works.
But all of that is still a bit down the dark spooky path through the woods. In the meantime the second season of Ash Vs Evil Dead premiers on Starz on September 23.
Via Slash Film.