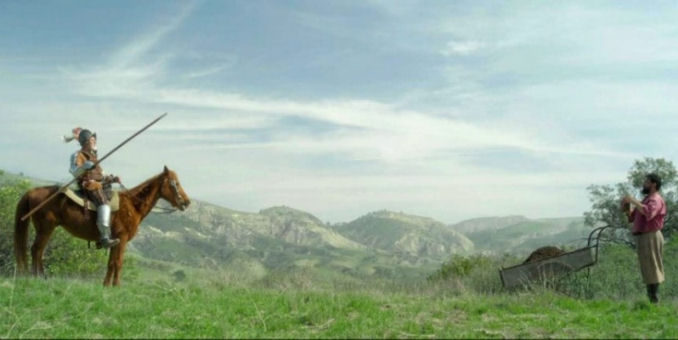 It sometimes feels like James Franco is everywhere. He has also dabbled in the fine arts, teaching in between ubiquitous film roles. If you need a helping of Franco, he's not hard to find. But one project of his is rather difficult to see and that's Don Quixote: The Ingenious Gentleman Of La Mancha.
An adaptation of the classic Cervantes novel Man Of La Mancha, the film is actually directed by ten of Franco's University of Southern California graduate students working from a screenplay adapted by another eight students and was produced as part of their course work at USC's film school.
Carmen Argenziano and SNL alum Horatio Sanz star as the titular Quixote and his trusty sidekick/squire Sancho Panza. Vera Cherny is the beautiful Dulcinea while Franco appears in the film as the prisoner Pasamonte.
The episodic structure of Cervantes novel is what lent itself to being the basis for such a project to allow the ten directors to oversee their various smaller sequences. As Franco told the Palm Springs Desert Sun at the film's premier at the Palm Springs International Film Festival –
It is broken up into episodes so that made it easier to split up the different sections among the students. It's about knowing how to split up the work flow, designing a script that can be broken up but then also put back together… And once you do that, multiple directors is manageable.

One of the things that I try to do with the film classes that I teach is to have the class have one foot in the academic world and one in the professional world… We bring in professional, very good actors to be in the project. I try to bring resources that I can manage into the projects and do all that so that the films don't have to just die at film school, be shown to a few fellow students and then disappear. We can actually take it out into the world and having it here as proof that we succeeded on some level.
This is actually the second time that Franco has overseen a project like this. In 2012, Franco had his New York University film school students adapt 11 poems by C.K. Williams into the film Tar, renamed The Color Of Time for release. That film featured Franco alongside Mila Kunis, Jessica Chastain, Zach Braff and Bruce Campbell.
Don Quixote: The Ingenious Gentleman Of La Mancha has only screened in public once, at the aforementioned Palm Springs International Film Festival in January 2015. It will have its second screening this weekend at the Belin Film Festival, outside of Scranton PA. As of now there is no word as to whether it will get a release.