There has been a flurry of activity surrounding Warner Brothers' DCEU lately, so let's take a moment to sort them all out for you.
First off, Collider is reporting that their sources say that the studio is reaching out to director Matthew Vaughn to direct Man of Steel 2. The director, with friend, comic book writer and frequent collaborator Mark Millar, pitched take on the character back in 2010, but the studio decided to put the reboot in the hands of Christopher Nolan and Zack Snyder. Vaughn and Millar's take on the concept was rumored to be quite a bit lighter than the one we got, so maybe that is the direction Warners intends on going in this time around.
Vaughn is a man who directs a lot of comic book adaptations, not only Kick-Ass and Kingsman: The Secret Service that he did with Millar, but he also adapted Neil Gaiman and Charles Vess' Stardust and also directed X-Men: First Class. He also was set to direct X-Men: The Last Stand and Thor before backing out, so don't count on his involvement until he's there when shooting starts.
This rumor does add a certain credence to another rumor that appeared on 4Chan which was then posted to Reddit which was picked up by ScreenGeek, that states that Warners is making  Man of Steel 2 a priority, with an eye on a November 1, 2019 release for the sequel. Typically, that is the weekend when Marvel releases it's fall film, but the studio already has 3 films set for release in 2019–Captain Marvel in March, its Avengers: Infinity War follow-up in May, and Sony's sequel to Spider-Man: Homecoming in July, which might mean that it will be the second year without a Marvel film in November, clearing the way for the DCEU entry.
This rumor also states that Brainiac will be the villain. However, it also states that the script will be written by Geoff Johns and Zack Snyder, which would be odd if Vaughn is being sought to direct. After all, why wouldn't Snyder direct if he's co-writing the script.
There were some other DCEU rumors included in the 4Chan chain, most notably one where The Flash, which was originally scheduled to be released on March 16, 2018, will be bumped to 2020. This rumor also makes sense as the project has undergone quite a bit of turmoil in the last couple of months, losing a director and apparently heading towards a page one rewrite. It would be dubious to reach that March 2018 window now, but that doesn't mean that we'll have to wait until 2020 for them to get their act together. If they get a workable script and a new director in place, we can see the film sooner. If not, 2020 would be optimistic.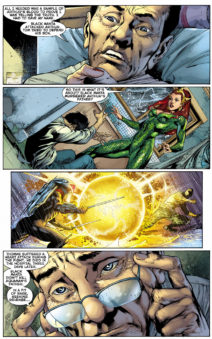 Another rumor from 4Chan is that the character Dr. Stephen Shin will be in the Aquaman film. The character is a recent addition to Aquaman's backstory, retroactive added as a friend of Aquaman's human father Thomas Curry who teaches young Arthur Curry how to use his powers. He later turns on Arthur when the Atlantean refuses to reveal the location of his undersea home. He was co-created by Johns.
The 4Chan post also says that the studio is very happy with Wonder Woman, and fully expect it to earn its $125 million budget back and a whole lot more. Talk has already begun about a sequel.
The Suicide Squad spin-off, Gotham City Sirens, is rumored to be aiming for a release date sometime in February 2019.
They also say that we will see our first trailer for Justice League before showings of The Fate of the Furious in April. The studio also supposedly will show an exclusive clip from the film before its King Arthur film.
And, finally, if you thought the hiring of Doug Liman would mean that the Justice League Dark films was high priority for Warners, think again. Rumor has it that Warners is in no hurry to get that film made.
Whether any of these rumors turn out to be true is anybody's guess. At least they are something to keep our eyes on in the coming months and weeks.