Last weekend's Guardians Of The Galaxy Vol 2 kicked off the 2017 Summer Movie Season with a whopping $145 million domestic weekend box office take. That was quickly followed by this weekend's failure to launch of director Guy Ritchie's King Arthur: Legend of the Sword, with a box office take so below expectations that it is already being labeled as the first bomb of the season. Not every movie hitting screens this summer will do as extreme business as either one of these films, there are a number we are looking forward which we think will be worth your time.
Alien: Covenant (May 19)
Alien franchise creator Ridley Scott's Prometheus was not the return that everyone was hoping for. Will this second prequel film from him be the movie that fans have been waiting for from him? It certainly seems to have a number of classic Alien franchise elements. Katherine Waterston, Billy Crudup, Danny McBride and Carmen Ejogo head a crew of colonists who discover what could be an untouched paradise planet. But as it isa n Alien movie, we know it is only a matter of time before everyone is creaming and fighting for their lives against the unstoppable xenomorphs. — Rich Drees
Pirates of the Caribbean: Dead Men Tell No Tell No Tales (May 26)
When the first film of the franchise came out, there were many who thought the film wouldn't last a month in the theaters, let alone become a franchise that lasted 14 years. But it has and it has made billions of dollars for Disney as well. It's been six years since the last one, and to make this one more of an event, Orlando Bloom and Keira Knightley are back after taking a film off. Oh, and Johnny Depp is back as Captain Jack Sparrow, but you probably knew that already. — William Gatevackes.
Wonder Woman (June 2)
At long last, one of the most iconic comic book characters finally makes it to the big screen. It was a long and arduous road for Princess Diana, full with many false starts. But I hope that her feature film debut is worthy of her legacy and something I can be proud to take my daughter to. Don't screw this up, Warners!–WG
The Mummy (June 9)
A new player in the cinematic universe game enters the arena this summer as The Mummy kicks off Universal's Monsters series. As the keystone film of the series, The Mummy is going to have to set the tone for what is to come while still functioning as its own self-contained story. Universal is bringing in some big guns, most notably Tom Cruise in the lead heroic role, so they must have a lot of confidence in their plan. And with the money that they have invested to bring that talent in, they have a lot on the line. – RD
Rough Night (June 16)
There's not a lot of comedies on the summer schedule, but this one looks like the strongest of the bunch. Sure some are saying that the film looks like nothing more than a gender flopped Very Bad Things or The Hangover. But when you have a cast featuring comic actresses like Kate McKinnon, Jillian Bell, Ilana Glazer and Zoe Kravitz all supporting lead Scarlett Johansson, who has done pretty well with the limited opportunities she has had to show off her comedy chops, all working from a screenplay by Broad City writers Luica Aniello (who is also directing) and Paul W. Downs, you have plenty of reasons to expect that this will be something more than a quickie knockoff. — RD
Baby Driver (June 28)
After toiling away at setting up Marvel Studios' Ant-Man only to walk away before production began, Baby Driver marks Edgar Wright's first film since 2013 The World's End. Ansel Elgort plays a getaway driver assigned by his boss to an obviously doomed heist and soon finds himself racing for his life. For someone primarily known for his comedies, Wright has shown that he knows how to stylistically shoot action and that is enough to whet our appetites for what he will do with the film's inevitable car chases sequences. Also, a supporting cast with the likes of Lily James, Kevin Spacey, Jon Hamm and Jamie Foxx help amp up the anticipation. — RD
The Beguiled (June 30)
A new Sophia Coppola film is always a noteworthy thing and it should be interesting to see what it is about this project, based on the novel by Thomas Cullinan, that made her drop out of a live-action adaptation of The Little Mermaid for this. Colin Farrell stars as a wounded Union soldier imprisoned at a Confederate girl's boarding school who charms his way into the hearts of Kirsten Dunst, Elle Fanning and Nicole Kidman, turning then against each other. Under almost any other director it would be easy to dismiss the story as pure soap opera, but Coppola has always managed to find an interesting angle to her stories and I expect this one to be no exception. — RD
The Little Hours (June 30)
Basing a film on The Decameron, a 14th century collection of novellas by Italian author Giovanni Boccaccio, doesn't sound like it is going to be a laugh riot. But when you have Alison Brie, Kate Mucucci and Aubrey Plaza starring as a trio of medieval nuns, Dave Franco as a young serf hiding from a rather vengeful lord and John C. Reilly and Fred Armisen as two Church officials there's little doubt that you are going to be getting anything else, but a laugh riot. — RD
Spider-Man: Homecoming (July 7)
This film will answer a lot of questions. Sony seems to think Spidey is a billion dollar property. The fans think getting Marvel Studios involved will bring the best version of the character to the big screen that we ever did see. Marvel thinks that having a Spider-Man in high school will make the character better. Hopefully, everybody will be right. — WG
War For The Planet Of The Apes (July 14)
The science-fiction franchise's reinvention starting with 2011's Rise Of The Planet Of The Apes through 2014's Dawn Of The Planet Of The Apes has far exceeded any expectations lingering from Tim Burton's failed 2001 reboot attempt. And while the solid and smart writing is the first half of the franchise's strength, the other half is the acting from Andy Serkis and the others who use motion capture to bring to the screen the numerous intelligent apes of the story. When the history of motion capture performance is written, these films will certainly be the starting point. Toss in the always good Woody Harrelson as this installment's antagonist and you've got something that will surely rescue moviegoers from any mid-summer doldrums that might set in. — RD
Dunkirk (July 21)

Christopher Nolan might not be the first name you think of to direct a war movie, but, if you're like me, thinking about it will make you excited. I think he's one of the best directors working today, and his unique vision will make his take on the historical World War II battle something to see. Having an all-star cast to work with also helps. — WG
Valerian And The City Of A Thousand Planets (July 21)
Although I find some of the storytelling lacking in Luc Besson's The Fifth Element, there is no denying that the director's skill at world building. And setting Besson loose at adapting Jean-Claude Mézières highly imaginative French comic Valerian and Laureline sounds like we should be in for a visual treat, if nothing else. Dane DeHaan and Cara Delevingne star as Valerian and Laureline, two time-traveling agents assigned to investigate a corrupt galactic empire. The only real worry I have about the film is that DeHaan and Delevingne could get lost in all of the spectacle. — RD
Atomic Blonde (July 28)
If there's been one big surprise so far this year, it has been Atomic Blonde. This film, adapting the comic series The Coldest City, didn't seem to be on anyone's radar, but after it premiered at South by Southwest this past winter, it was all anyone could talk about. The buzz was so strong on the film that Focus Features quickly brought the film's general release date forward a few weeks out of the dog days of August to its current July 28 spot, giving us a chance to see for ourselves if the film is as interesting as it is hinted at in its trailer. — RD
The Emoji Movie (July 28)
One of the most charming aspects of Hollywood is that if something is inexplicably popular in pop culture, the studios will try and make a film out of it. Fifty Shades of Grey. Angry Birds. This one. Whether or not you can make a satisfying narrative out of it, if people are fascinated by something, Hollywood studios think people will come see a film about it. But, really, really, who wants to see a movie about emojis? We'll find out in July. Could it be a trainwreck? Could it be the hit of the summer? Could movies survive that?–WG
An Inconvenient Sequel: Truth to Power (July 28)
In a perfect world, this sequel would not be necessary. Al Gore's An Inconvenient Truth would have turned everyone's mind to the reality of climate change and permanent solutions would be in effect to help avert it. But we have a world full of people who deny the mountains of evidence of climate change for their own selfish motives. Hopefully, there will be more converts this time around.–WG.
Ingrid Goes West (August 11)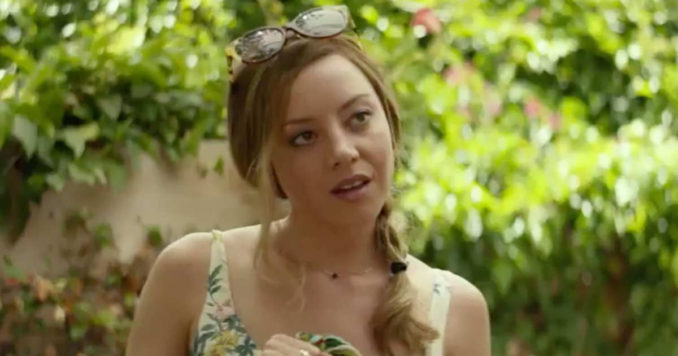 Aubrey Plaza has been building herself up a solid resume as a comedic actor and this variation on Single White Female for the social media age could be her breakout role. Plaza stars as the titular unstable, obsessive who moves to Los Angeles to try and integrate herself into an Intagram celebrity's life. Elizabeth Olsen stars as the social media star with Billy Magnussen as her brother who is rightfully suspicious of Ingrid's motives. — RD
Podcast: Play in new window | Download