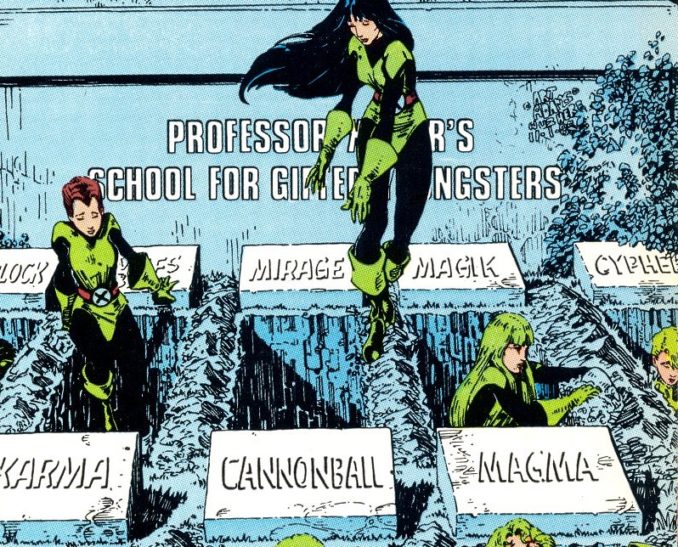 I was looking forward to the New Mutants film. The characters were my entry into Marvel's mutant universe as their title began just as I was getting into comics and the cast was close enough to my age to identify with. I kind of grew up with him, and would have loved to see how the "teenagers following in the footsteps of elder classmen" ethic would work on the big screen. Unfortunately, I'll never find out because director Josh Boone is going in a different direction from the comics.
The director spoke with Entertainment Weekly about the film, and he said that it would be unlike any other X-Man film you have ever seen:
We are making a full-fledged horror movie set within the X-Men universe. There are no costumes. There are no supervillains. We're trying to do something very, very different.
Sigh. This is what the success of Deadpool hath wrought–Fox is getting all experimental with its Marvel mutant license.
To be fair, if there was an X-property that lend itself best to horror concepts, it would be the New Mutants. After all, the team has featured a werewolf, a Native America that can predict when people will die, and a girl who rules over demons in a Hell-like Limbo as its members (all character, by the way, who will be in the movie) and the run by Chris Claremont and Bill Sienkiewicz sent the book on various themes that could be considered horror-like.
However, even though that era of the book was listed as Boone's inspiration for the film, the leaked plot description doesn't really resemble the story as I remember it:
Held in a secret facility against their will, five new mutants have to battle the dangers of their powers, as well as the sins of their past. They aren't out to save the world — they're just trying to save themselves.
So, less Universal Monsters meets Hammer Films by way of Stephen King, more The Fly mixed with Saw. Wonderful.
Fox and Boone must realize that the last time a hot, up-and-coming director decided to put its own stamp on a Marvel property done at the studio, we got Josh Trank's Fantastic Four, because the article goes over board into establishing Boone's comic-geek cred. He and his friend made comic books when they were young! His pitch for the film was delivered in comic book form! He knew how to spell Sienkiewicz!
The article also states that Brazilian model and actor Henry Zaga (Teen Wolf, 13 Reasons Why) to play Roberto da Costa, a.k.a. Sunspot. The character is Brazilian in the comics, so at least Boone is staying close to the comic book roots in that aspect.
In other casting news, The Hollywood Reporter says that Rosario Dawson is in talks to take over the role of Dr. Cecilia Reyes, who in the comics is a Puerto Rican physician with the power to create a personal force field. She wasn't a part of the New Mutants book, and was a reluctant member of the X-Men at that, but apparently will be playing a mentor role in the film. So this means that James McAvoy is unlikely to be in this film as he was rumored to be.
Dawson is the second actor Fox has cast that also plays a character in the Marvel Cinematic Universe. She plays Claire Temple in a number of Netflix's Marvel TV shows. She joins Josh Brolin, who plays Thanos in the MCU films who was recently cast by Fox as Cable in Deadpool 2. Coincidence, or a savvy attack in the war between Marvel and Fox? Forcing Marvel Studios to have to work around the schedules of two of its actors thanks to Fox could be seen as a form of sabotage. Just sayin.
No release date or production begin date has been announced for New Mutants, but I imagine that it will be forthcoming soon.