This week's new releases goes to the apes. And people in induced comas. And stupid teens messing with evil magical curios.
1. War for the Planet of the Apes (Fox, 4,022 Theaters, 140 Minutes, Rated PG-13, Rotten Tomatoes Tomatometer at press time: 94% Fresh [164 Reviews]): The apes wish to peacefully co exist with the humans that survive the Simian Virus is threatened by a rogue army of humans called Alpha/Omega. They feel the only way humans can be the dominant species again is to kill all the apes. This doesn't sit well with Caesar (Andy Serkis) who wants peace but isn't afraid of war. And war is what all parties will get.
This marks the end of the reboot trilogy, but considering the first series of films went a bit beyond that, and this series has increased in grosses and good reviews over time, don't expect it to end here. A fourth installment is already in the works.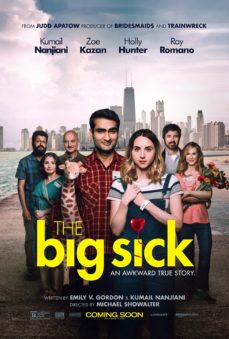 2. The Big Sick (Opening Wide, Lionsgate, 2,597 Theaters, Rated R for language including some sexual references, Rotten Tomatoes Tomatometer at press time: 97% Fresh [138 Reviews]): This film makes me think of the Amy Schumer film Trainwreck. Both were producer by Judd Apatow and feature a popular comedian from television making their lead film debut. The comedian wrote the autobiographical script in both cases and there are plot points in each where the protagonist has to deal with a sick loved one.
The main difference is that in this film, that last plot point gets more prominence. Kumail Nanjiani plays a comedian who is rocked when the girl he just broke up wth is put in a coma after contracting a nasty infection. The event causes him to confront the thing that broke them up–his refusal to move away from his parent's culture and desire to arrange a marriage for him.
The film's trailer is hilarious and the reviews are simply extraordinary–so good there is already Oscar talk. If apes aren't your speed, give this one a try.
3. Wish Upon (Broad Green Pictures, 2,250 Theaters, 90 Minutes, Rated PG-13 for violent and disturbing images, thematic elements and language, Rotten Tomatoes Tomatometer at press time: 23% Fresh [40 Reviews]): However, if apes aren't you're thing, you can probably skip this too.
So, what do we have here? Okay, well Clare (Joey King) has a birthday coming up and her dad (Ryan Phillippe) finds the perfect gift in the garbage. Because we all know nothing says I love you than something that smells like rotting lettuce and spoiled milk. The gift is a box that grants seven wishes to its owner–but with a cost. Yes, Clare can have whatever she wants, but to get it, someone she loves will die. Since there is 90 minutes to this film, she has to get through seven of those wishes, right? So either she's a slow on the uptake idiot or a selfish serial killer by proxy. Either one, not terribly sympathetic.
This appears to be another dumb high-concept cash grab of a horror movie. It has an intriguing yet poorly thought out concept, a PG-13 rating and a 90 minute run time. It is pre-fabricated to get the most money out of as many people it can as quickly as possible. The only thing keeping it from the sideshow of a carnival is the fact that they do not show films at carnival.
Next week, new releases focus on war and travel. See you next week.