A wide variety of horrors await you in this weeks new releases. Let's take a look.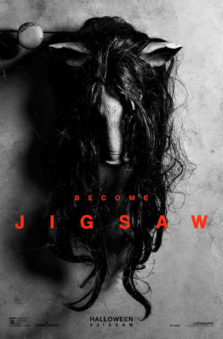 1. Jigsaw (Lionsgate, 2,941 Theaters,91 Minutes, Rated R for sequences of grisly bloody violence and torture, and for language, Rotten Tomatoes Tomatometer at press time: 48% Fresh [27 Reviews]: Is it wrong to call this franchise a classic? I mean, I'm not a fan but it has an iconic villain, a premise with never-ending potential and now eight installments. That seems to be enough to enter it in the pantheon of classic horror films.
This time around, more bad people are captured and forced to undergo gruesome test to ensure their survival. All clues point to the fact that John Kramer, the original Jigsaw, is back at work. One problem with that theory–he died several years ago.
Once again, I'm not a fan of torture porn horror, even ones with the pedigree of this franchise. But I can't see it not dominating the Halloween box office.
2. Thank You For Your Service (Universal, 2,054 Theaters, 108 Minutes, Rated R for strong violent content, language throughout, some sexuality, drug material and brief nudity, Rotten Tomatoes Tomatometer at press time: 77% Fresh [65 Reviews]: While I did make a glib comment about this week's film's line-up featuring horrors, there is nothing funny about the horror of post-traumatic stress disorder or the soldiers who struggle with it every day.
This film is based on a true story and follows a group of soldiers who have a hard time adjusting to lives back in the states. They come back to their families as strangers and are still haunted by what they had to go through in Iraq.
Treatment of veterans are used as a weapon by many on both ends of the political spectrum. Maybe they should all watch this film to learn that they should be more worried about helping out the veterans than using them as political pawns.
3. Suburbicon (Paramount, 2,046 Theaters, 104 Minutes, Rated R for violence, language and some sexuality, Rotten Tomatoes Tomatometer at press time: 28% Fresh [127 Reviews]: I've really liked every thing I've seen of George Clooney as a writer and director. I like most of the Coen Brothers' stuff. So Clooney adapting a Blood Simple era Coen Brothers script should be a "Take my money and stand over there a wait for your Oscar nomination" sort of thing.
What you don't expect is a Tomatometer score that low. That is shocking. Especially with the cast Clooney has to work with.
The film is set in the 1950s. A home invasion leads to murder of Gardner Lodge's (Matt Damon) wife. The police smell something fishy about Gardner's story, but the people in town's thoughts about the crime wander in another direction–a direction that points to a black family that just moved in.
Next week's new releases are going to Ragnarok all night and party every day. See you then.