Do you like playing games? Do you like scary environmental disasters? Do you wish to find your soul mate? Do you like actors that have appeared in comic book films? Then this week's New Releases are for you.
1. Game Night (Warner Brothers, 3,488 Theaters, 100 Minutes, Rated R for language, sexual references and some violence, Rotten Tomatoes Tomatometer at press time: 85% Fresh [83 Reviews]): A group of friends who always get together for game night try something new for a change: a murder mystery. But the line between fantasy and reality become blurred and a fake kidnapping might become very real and the guns have real bullets.
This film seems to be a amalgam of The Game and The Man Who Knew Too Little, which is a good mashup up to be in. The reviews so far are decent, so it might be worth a look.
Comic book film actors in cast: Rachel McAdams (Doctor Strange), Danny Huston (Wonder Woman, 30 Days of Night, X-Men: Origins: Wolverine)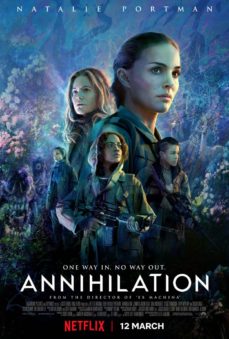 2. Annihilation (Paramount, 2,012 Theaters, 115 Minutes, Rated R for violence, bloody images, language and some sexuality, Rotten Tomatoes Tomatometer at press time: 90% Fresh [89 Reviews]): A soldier named Kane (Oscar Isaac) leads an expedition into a shimmering patch of land called Area X. Eleven other missions have entered the area and none have come back–except for the Kane, who has returned seriously ill.
Kane's wife Lena (Natalie Portman) volunteers to lead another expedition into the area to find a cure for her husband. What she finds is genetic inside the area being rewritten, and a horrible beast preying on all who enter.
The film is based on Jeff VanderMeer's Nebula Award Winning novel. It has been getting good reviews and is the week's best bet.
Comic book film actors in cast: Portman (Thor, Thor: The Dark World, V For Vendetta), Benedict Wong (Doctor Strange), Tessa Thompson (Thor: Ragnarok). And, no, the fact that Padmé is married to Poe Dameron in this film is not lost on me.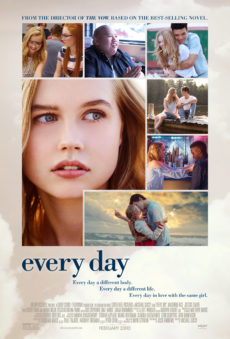 3. Every Day (Orion, 1,625 Theaters, 95 Minutes, Rated PG-13 for thematic content, language, teen drinking, and suggestive material,  Rotten Tomatoes Tomatometer at press time: 54% Fresh [13 Reviews]): The good news is that Rhiannon (Angourie Rice) has found her soul mate. The bad news is that it is her "Wandering Soul" mate–a spirit that inhabits a new body each and every day. The pair tries to build a romance, but the fact her paramour hides behind a new body every day complicates things a bit.
The film, adapted from David Levithan's book, seems to have a unique premise, one that seems nigh impossible to pull off on screen. Based on the reviews, it seems like they weren't successful.
Comic book film actors in cast: Rice & Jacob Batalon (Spider-Man: Homecoming), Maria Bello (A History of Violence).
Next week's new releases give us a glimpse at what a Black Widow film might look like and what would happen if Paul Kelsey were more action orientated.