Groucho, Harpo, Chico and…. Dali?
At one point in the 1930s, the world almost got a comedy that would have seen the melding of the comic sensibilities of the Marx Brothers with that of the man at the forefront of the Surrealist art movement, Salvador Dali. A screen story for the Marxes was written by Dali, but it never progressed any further than that and the whole tantalizing prospect of seeing what would have resulted from this team-up joined the numerous other aborted projects that never made it to the silver screen.
But now fans will get a chance to see how that project may have turned out as Quirk Books has announced a graphic novel adaptation of the film Dali called Giraffes On Horseback Salad. Writers Josh Frank and Tim Heidecker (of comedy team Tim and Eric) are working with Spanish comics artist Manuela Pertega on the project which should be in book stores and comics shops in mid-November.
According to Quirk Books –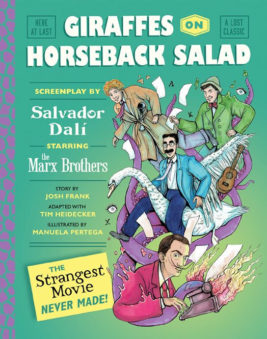 In Giraffes On Horseback Salad, normality clashes with imagination as a businessman named Jimmy (played by Harpo) is drawn to the mysterious Surrealist Woman, whose very presence changes humdrum reality into Dali-esque fantasy. With the help of Groucho and Chico, Jimmy seeks to join her fantastical world… but forces of normalcy try to end their romance and pull them down to Earth.
The intersecting of the talents of the Marx Brothers and Salvador Dali doesn't seem to far a stretch if you think about it.
Dali was an admirer of the Marx Brothers and had declared that their anarchic style of comedy was very much in line with the Surrealist movement. The painter was most enamored with silent, harp-playing Harpo and for Christmas 1936 sent him a harp where the strings were replaced with barbed wire. For his part, Harpo sent Dali back a picture of himself with his fingers bandaged along with a telegram indicating he would love to sit for a portrait by Dali – "[I would be] happy to be smeared by you." In a piece for Harper's Bazaar in the spring of 1937, Dali declared "Harpo Marx is Surrealist in everything!" Groucho dryly noted that "Dali was in love with my brother – In a nice way."
Harpo and Dali finally met face to face after New Year's 1937, when the painter and his wife Gala traveled to Hollywood. By the end of the meeting, Dali found himself inspired to write a screenplay treatment which he titled Giraffes On Horseback Salad. The treatment never really generated much interest at the Brothers' studio MGM, perhaps because it might have been too outre for even audiences used to the Brothers' antics. Groucho Marx biographer Stefan Kanfer called it "worthless as a scenario" in his book Groucho: The Life And Times Of Julies Henry Marx. Additionally, Irving Thalberg, the MGM producer who had brought the Marx Brothers over from Paramount in 1935 and shepherded their first two films – A Night At The Opera and A Day At The Races – at the studio had unexpectedly passed away the previous September. His loss left the Brothers floundering somewhat at the studio in the years to come, leaving one to wonder that if he had lived would he have been able to get Giraffes On Horseback Salad onto the screen.
Dali would continue to occasionally flirt with Hollywood and filmmaking. In 1946 he collaborated with Walt Disney on the never completed short Destino, which was to have combined animation and live action and was to be part of a larger anthology film similar to Disney's Make Mine Music or Fantasia. The artist would have a more successful collaboration with Alfred Hitchcock, designing the nightmare sequences for 1945's Spellbound. For their part, the Brothers continued making movies at MGM, but without Thalberg in their corner, support from the studio was lacking and the Brothers' enthusiasm waned.
But Giraffes On Horseback Salad would not be the only unmade Marx Brothers project that would tantalize fans decades later. In 1960, while shooting The Apartment in New York City, director Billy Wilder had the idea for a Marx Brothers film entitled A Day At The United Nations, and got as far as writing a 40-page treatment with writing partner I. A. L. Diamond. Groucho was enthusiastic for the idea when Wilder approached him but ultimately the project fell apart when the studio couldn't get the production insured. (Most likely due to Chico's health issues that would take his life two years later.)