Steve Ditko, the artist who with Jack Kirby help Stan Lee create the Marvel Comics universe, was found dead in his New York apartment today, although sources say he died several day earlier. There is no official cause of death as of yet, but TMZ is claiming that he died of a heart attack. He was 90.
Born in Johnstown, Pennsylvania on November 2, 1927, Ditko was the son of a  master carpenter at a steel mill. He inherited hi father's design sense, working to create models of German aircraft while he was in high school to aid in the World War II war effort. After graduating high school, Ditko enlisted in the U.S. Army. He was stationed in postwar Germany, where he drew comics for the Army newspaper.
After his tour was over, he entered the Cartoonists and Illustrators School (which would later change its name to the School of Visual Arts) in New York City. From there, he started getting work in comics, drawing stories for Key Publications and working as an assistant to Jack Kirby, Joe Simon and Mort Meskin. From there, he worked at Charlton Comics where he would end up co-creating Captain Atom.
He started working for Marvel Comics, then known as Atlas, in 1955. He, along with Kirby, worked on the company's line of horror and monster books and were set to lead the company during the forthcoming superhero comic book revival.
Jack Kirby gets a lion's share of creating the Marvel Style of art, Ditko deserves recognition as well. Both creators' characters seemed to leap off the page, but Kirby's seemed to be chiseled out of hard granite while Ditko's seemed to be molded from soft clay. Ditko's fluid style fit the weirder side of Marvel's output and was one of the main factors in the success of what would become the company's most famous character.
In 1962, so the story goes, Lee was bolstered by the success of the Fantastic Four and decided he wanted to create a teenage superhero. His first choice for artist was his FF cohort Jack Kirby. Kirby dusted off a spider-based, pulp inspired character he has created in the 1950s to show Lee, but Lee found the character to be too heroic for the character.
Lee went to Ditko next and that's where he hit pay dirt. Ditko's weirder and slightly more unusual style fit in with Lee's ideas about the character. The character became a scrawny everyman instead of a Greek Adonis. Ditko made the character, who would be named Spider-Man, look like a teenager who got his powers by accident.
Ditko's art and Lee's melodramatic prose resonated with readers and Spider-Man became a smash success. The character became the face of the company, appearing on its letter head. It expanded into toys, clothing and other ephemera. Spider-Man became one of the most recognizable figures in all of pop culture. All thanks to the great start Lee and Ditko gave the character.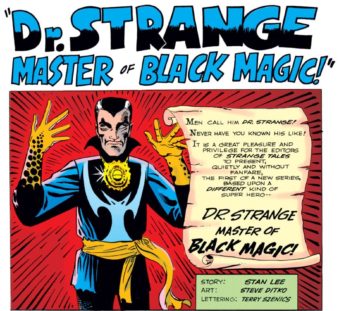 Ditko's other major creation for Marvel was Doctor Strange, who first appeared a year later. Ditko's art style once again was a perfect match for Lee's ideas. Ditko's imagination gave form and substance to the trippy other dimensions that Strange would visit, and his design sense lend an air of creepy majesty to characters such s Dormammu and Eternity.
Even though Lee and Ditko seemed to be perfectly matched in their work on these characters, their working relationship was anything but perfect. Unlike his relationship with Kirby, who he pretty much left to his own devices, Lee was far more hands on with Ditko. The pair would often argue about the direction of the characters, an argument that Lee, who was Editor-in-Chief, would always end up winning. After disagreeing on the secret identity of the Green Goblin (Lee wanted it to be established character Norman Osborn, Ditko wanted it to be someone the readers had not seen before), Ditko left Marvel in 1965.
Ditko briefly went back to Charlton, where he created the Question, revamped Blue Beetle and worked again on Captain Atom. Then, he moved onto DC Comics, where he co-created Creeper, Hawk and Dove, and Shade the Changing Man. In 1979, he returned to Marvel, where he would eventually co-create esoteric characters such as Speedball and Squirrel Girl.
By this time, Ditko was using his mainstream work to fund is passion project–a number of solo comics that helped promote and explain his Objectivist philosophy. Rumor has it that he was working on these books right up until the day he died, and there could be numerous volumes of these type of books waiting to be published.
Both of Ditko's major creations have been adapted to the big screen. Spider-Man has appeared in three series of films since 2002 and grossed almost $5 billion collectively. And Doctor Strange was the focus of 2016 Marvel Studios film.
Ditko lived life as a recluse. He had no know spouse or children.