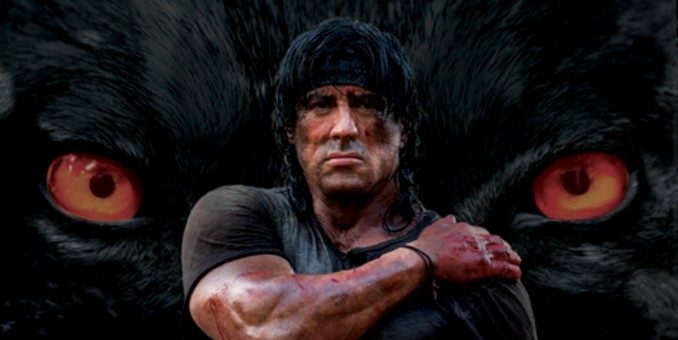 You can't deny that Sylvester Stallone is not Eco-friendly, because he is recycling a potential idea for the Rambo franchise into its own stand-alone franchise.
The news comes as part of Deadline's rundown of new projects for Stallone's new Balboa Productions shingle. One of the films mentioned to be in the pipeline was Hunter, a film adapted from the 1999 science-fiction novel by James Byron Huggins.
The film will deal with a skilled tracker named Nathaniel Hunter who is hired to track down and kill genetically altered beasts that escaped a top-secret military installation.
Hardcore Stallone fans with excellent long-term memories will remember that Stallone bough the rights to the book way back in 2009…to use as a plotline for Rambo V. Yes, that sequel was supposed to plug John Rambo in the place of Nathaniel Hunter and take the Rambo franchise in a new sci-fi direction.
The film was going to be called Rambo V: The Savage Hunt and it went so far as to have a one-sheet made up to pass along during the Toronto Film Festival. That version of the film stalled. There will be a Rambo V, it's shooting now as a matter of fact, but the story will have him taking on the Mexican drug cartels.
No word on whether or not Stallone will be directing and/or starring in the film. At this point he is still looking for a screenwriter to adapt the book.
The article also go on to list a number of other projects Stallone has in the pipeline for Balboa Productions. They include:
Samaritan: A dark take on the superhero with a script from Bragi Shut. No word if this film is based on the character from Kurt Busiek's Astro City line of creator-owned comics.
Ghost: My Thirty Years as an FBI Undercover Agent: Adapted from the memoir of Michael McGowan, a 30-year field operative who ran an unprecedented 50 undercover missions.
An as yet untitled special-ops film: An action film to be written by retired Army Ranger Max Adams.
The above films with the exception of Samaritan will be backed by Chinese financier Starlight Cultural Entertainment.