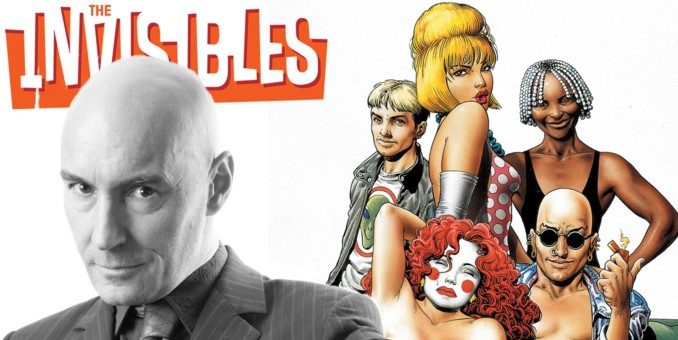 In the mid-to-late 1980's, comic books experienced a British Invasion. A number of British creators crossed the pond and changed comic books forever. The big three names were arguably Alan Moore, Neil Gaiman, and Grant Morrison, and Hollywood has come calling for all of them. Moore rem0ved himself from any involvement in film adaptations of his work. Gaiman has taken a more active role in adapting his novel for the small screen, and now it looks like Grant Morrison will be following Gaiman's example.
Deadline is reporting that Morrison has signed Universal Cable Productions, a subsidiary of the NBC Universal conglomerate, to develop and produce original content for the NBC/Universal networks and streaming services. And one of the original concepts Morrison will be producing will be a show based on his seminal creator-owned work, The Invisibles.
The Invisibles was a series on interconnected miniseries that was published by DC Comics' Vertigo imprint from 1994 to 2000. It deals with a secret organization that fights an inter-dimensional alien invasion using sorcery, time-travel, meditation and physical violence.
If that description sounds esoteric to you, just realize that I did not even scratch the surface of how weirdly inventive the series was. The book pushed the boundaries of the medium, courting controversy numerous times along its run.
It also has proven hard to adapt. It has been optioned for film and TV numerous times in the past with no luck going any further. But if anyone can mold Morrision's narrative to a TV-friendly format, it's Morrison.
Morrison is no stranger to NBC Universal, as his series Happy! has been adapted to the small screen by SyFy, one of the NBC/Universal family of networks. Odds are that is where we will see most of Morrison's contributions being broadcast.
No word on what, if any, of Morrison's other comic book work will be brought to life through this deal, but Morrison will be working on bring Aldous Huxley's Brave New World to TV screens. Morrison will be a writer and executive producer on that project.