Ringo Lam, the Hong Kong director who influenced both his contemporaries at home and in Hollywood, died yesterday at his Hong Kong home. He was 63.
It was Lam's 1987 film, City On Fire starring Chow Yun-fat that helped shape the landscape for a certain brand of Hong Kong film – one of gritty tales of gangsters torn between their passions and their codes of honor and cops weary of, but unable to quit, fighting corruption. It was territory that John Woo had begun exploring just a year early in his film A Better Tomorrow, but Lam followed up City On Fire with two more films to comprise his "On Fire" thematic trilogy. Lam's films would go on to inspire the crime dramas of directors like Johnnie To while his cinematographer on City On Fire, Andrew Lau, would go on to co-direct the classic Infernal Affairs trilogy, the first film of which Martin Scorsese would remake as The Departed, fifteen years later. Tarantino's breakout debut Reservoir Dogs is also heavily inspired by City On Fire's third act. The 2002 Bollywood thriller Kaante also shows signs of City Of Fire's influence.
City On Fire would go on to win Lam the Best Director award at that year's Hong Kong Film Awards, with Chow earning the Best Actor award for his role of an undercover cop who has infiltrated a Hong Kong gang.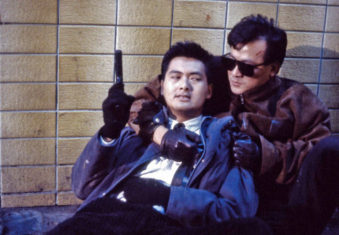 The Hong Kong of Lam's films was never as stylized as how it was presented in some of his contemporaries' films. Instead, its beauty and grittiness was captured in the details his camera captured, not in how it moved through places. Lam wasn't above a stylish shot though, as the image of the the bloody face against the white fabric in the opening sequence of City On Fire can attest to.
Lam got his start in television in the late 1970s, both writing and as a director. He went on to study film at the York University in Canada, before returning to Hong Kong to make his debut feature Espirit d'Amour in 1983. A small number of light comedies followed before he directed the action comedy Aces Go Places IV. The success of that film allowed him to go on to make City On Fire.
With his success in Hong Kong, it wasn't long before Hollywood came calling. He would go to make a trio of action films starring Jean-Claude van Damme — Maximum Risk (1996), Replicant (2001), and In Hell (2003). But he would continue to work in Hong Kong during that time, making films like 1997's Full Alert, which earned five nominations at the Hong Kong Film Awards, including Lam's second best director nomination.
But Lam would never find much traction for a career in Hollywood the way that some of his other contemporaries like John Woo would. Instead, he kept working in the Hong Kong film industry making such films as Triangle (2007), Wild City (2015) and Sky On Fire (2016).