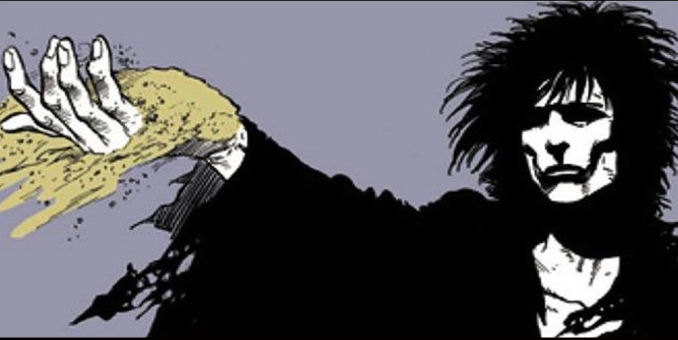 Netflix has ordered a live action TV series adaptation of the iconic DC Comics/Vertigo series Sandman.
The Hollywood Reporter is stating that the critically acclaimed comic series from writer Neil Gaiman is being ordered right to series with Wonder Woman screenwriter Allan Heiberg set up to showrun the series while Gaiman and David S Goyer are set as executive producers. Goyer had been attached to a potential Sandman silver screen adaption as far back as December 2013, alongside Joseph Gordon-Levitt. Levitt dropped out in March 2016.
Gainman's series centers on Morpheus, the Lord of Dreams, one of a family of near god-like beings who oversee various aspects of the human condition. The series opened with Morpheus escaping a seventy year confinement on Earth and having to retrieve the three mystical artifacts that stand as the symbols of his office of Dream Lord. Other story arcs in the series saw Morpheus traveling to Hell to release a former lover he had condemned there in a fit of anger centuries earlier, joining his sister Delirium in a search for their family's missing brother Destruction and being pursued by the Furies for the spilling of family blood. The series ran 75 issues from 1988 to 1996.
Although no actual numbers have been stated, the Reporter is stating that Sandman will be by far "the most expensive TV series that DC Entertainment has ever done." This is not that surprising, considering that Netflix has had a pretty open wallet when it comes to content acquisition and it could cost a pretty penny to faithfully recreate some of the amazing, expansive and imaginative visuals from the comic. The high price tag for the show is most likely the reason why Warners wasn't producing it for their own DC Universe streaming service.
Sandman has been one of those comic book properties that seemed to have been perpetually in development, with no one being able to either crack a screenplay that really worked or get a studio enthused enough to greenlight it into production. Screenwriter Robert Avery was one of the first to attempt to tackle the project in the mid-1990s when he was hot off of co-writing Pulp Fiction with Quentin Tarantino. He was working with future Pirates Of The Caribbean scribes Ted Elliott and Terry Rossio. After that attempt fell apart, the project floated through a number of other screenwriters before the Goyer/ Gordon-Levitt attempt in 2013.