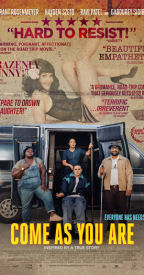 Scotty (Grant Rosenmeyer) is like nearly every other twentysomething young man in that he wants to have sex. His main obstacle to that he feels has been the fact that he has been confined to a wheelchair for nearly his entire life, something that has slowly been turning him more bitter about life. During a chance encounter with a parapalegic who seems to have a healthy dating life, Scotty learns of a brothel over the Canadian border that caters exclusively to the disabled patrons. To help defray the travel costs, he enlists his visually impaired, longtime friend Mo (Ravi Patel) and newcomer to his physical therapy clinic Matt (Hayden Szeto) to accompany him.  Passive therapies which may help you achieve faster and more complete relief from tennis elbow .With van driver Sam (Gabourey Sidibe), the three set out north, with their disapproving parents, led by Scotty's overprotective mother Liz (Janeane Garofalo), in hot pursuit.
When you boil the film's plot down "guys on a road trip to get laid," it is hard not to see the film's roots in the adolescent sex comedies of the 1980s. The film even opens with a riff on the opening scene of Bob Clark's 1982 cornerstone of the genre Porky's. But Come As You Are doesn't employ the usual trappings one would expect. There's no grossout gags with splashing fluids, no gratuitous nudity, no wildly improbably comic set pieces. The biggest that the film gets is a sequence where the trio have to flee a motel before their parents arrive and are forced to let Mo, the only one with working legs, drive the van. But even then, the film keeps the comedy grounded and never goes for big, slapstick laughs. It always has something a bit more human and relatable on its mind, the actual lives of its three main characters.
Come As You Are is an adaptation of a Belgium film which in turns was inspired by a true story. At this remove, it is hard to see what may remain of the reality of the story versus what is cinematic invention. As it is told here, Come As You Are certainly has its share of plot points that feel rote. But there is a sensitivity with which the film approaches its central characters. These are not a trio of horny guys just looking to get laid. Instead, they are three people who feel isolated from what they perceive as "normal society," and are just wanting to make some sort of an intimate connection with another person. It is a basic human need that they are aching for and the fact that the three men can't even articulate that need to their own family members and are forced to leave for their trip in secret states something profoundly sad about our society and how we deal and discuss interpersonal relationships, sex and the societal marginalization of the disabled. There may not be big laughs in Come As You Are, but the film does have a big heart which carries it a long way.