If you want to judge it on the basis of getting films into theaters, 2020 wasn't that bad a year for comic book films. If you were going back to last year's State of the Comic Book Film column (which I'm sure all of you have at least bookmarked if not printed out, laminated and put in a book. In case you don't you can read it here.), we got 4 out of the 7 comic book films we had scheduled. Sure, we lost both of Marvel's offerings–Black Widow and Eternals–and Sony's attempt to wring another film out of its Spider-Man license with Morbius, but 4 out of 7 ain't bad in that context.
However, in just about every other context. It was horrible. The entire film industry was hit hard by COVID-19, and you can count the comic book film as a part of it that took the biggest hit. The comic book film is a genre that benefits most from the communal viewing experience. Every time I watch Avengers: Endgame, I get goosebumps when I get to the scene where Captain America picks up Thor's hammer (and if that spoils the film for you, you weren't going to see it anyway. It's been a year and a half since it came out and you were stuck inside for most of 9 months. If you haven't seen it already, you deserve to have it spoiled). And the goosebumps were cause by my memories of the electricity in the theater when that moment happened, the crowd cheering in unison.
For those of us who lost loved ones to the pandemic, it doesn't feel 100% right to bemoan the plight of films, be they comic book adaptations or not. But films are balm in tough times for a lot of people. They are a social glue for our circle of friends. They are something that help us take our mind off our troubles. So, I feel its okay to show a tiny bit of sadness that they weren't there for us in full force like they were in the past.
Our first comic book film this year was released back in February, Birds of Prey (and the Fantabulous Emancipation of One Harley Quinn). Congratulations, Warner Brothers! This film is the highest grossing comic book film of the year! Granted, that's like winning a foot race against a turtle, a car with no engine and Donald J. Trump, but still! Future generations might not know how messed up this year was!
My main issue with the film, which I expounded on here, was its pursuit of an R rating. Don't get me wrong, I'm no prude. I've been yelled at in a bar for my potty mouth. But the language and violence in the film seems arbitrary. It added nothing to the plot. If anything, it took away from the goofy, cartoonish vibe the film was at times going for.
But if you are will to put that aside, you have a pretty good action flick with a lot of great elements. The film features some of the best fight choreography and stunts that I have seen in a film in recent memory. The acting is great, especially Ewan McGregor as Roman Sionis. McGregor dances along the line of scenery chewing and creates an interesting bad guy who oozes with slimy menace.
I also love the film's take on Huntress, played to perfection by Mary Elizabeth Winstead. In the interest of fairness, I need to tell you that I have been a Mary Elizabeth Winstead stan since Sky High. But even taking that into consideration, having a person who has been seeking vengeance since they were six not being a suave playboy like Bruce Wayne but rather a socially maladjusted woman prone to rage is a brilliant move. I know if any member of the cast will be getting a stand-alone film, it will be Margot Robbie's Harley Quinn. But I do want to say that I will pay good money to see a Huntress film.
If you need further proof that 2020 is a cursed year in comic book film, well, look no further. Bloodshot was supposed to be the first of a five part salvo to bring the Valiant comic book universe to the big screen. They hired Vin Diesel and it looked like they had a pretty good battle plan and might actually build to something. Then the pandemic came in and shot all their plans to heck.
The film opened on March 13, just as the Coronavirus was starting to sweep the nation. Just under 2 weeks later it was released on VOD. It had only made $37 million worldwide in theaters, quite less than its $45 million budget.
How much of that was due to the quarantine and how much of that was due to the film's quality? The film was critically lambasted, but I personally didn't think was as bad as critic made out. However, I do have a soft spot in my heart for cheesy action films, and give them more of a break than I do other films. I'm not saying it's a great film, or even appointment watching, but if you like having a action movie you only have to give a modicum of thought to as your weekend movie viewing, you could do worse.
Speaking of cursed 2020 comic book films, that brings us to The New Mutants. Although, the virus has nothing to do with this curse. The film could also be considered a cursed 2018 film and a cursed 2019 film as well.
This film was originally scheduled to be released in April of 2008. Then was moved to February 22, 2019. Then to August 2, 2019. Then to April 3, 2020. Then, finally, to August 28, 2020. All along the way, the film faced reshoots (made difficult by the cast's work conflicts), characters being written in and characters being written out, its home studio Fox being bought out by Disney, and finally a bloody pandemic. I am truly amazed that film came out at all.
How was the film? Well, for me, it was more a case of it being boring than being bad. Don't get me wrong, there are a lot of bad parts about it–the uneven acting performances, the come-and-go accents, the dodgy CGI–all of which could be chalked up to its choppy production schedule. But the main problem I had with it is that it seemed to rely on comic book fans knowing the characters beforehand, and using that to fill in the blanks of the film's lackluster characterization. But the filmmakers really needed to do the due diligence on making the characters fleshed out to make the movie work. They didn't. The characters are more archetypes than anything believable. The result is the danger they face has no impact, and you tune out of the narrative,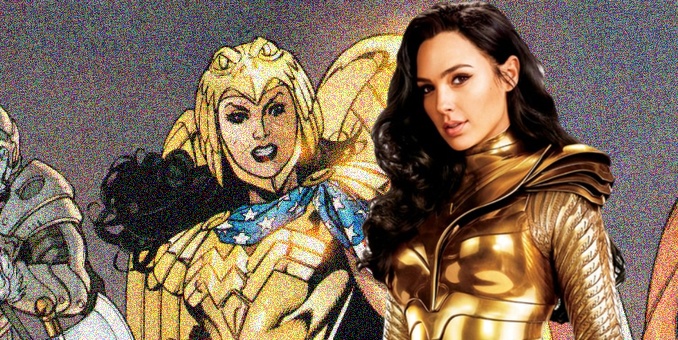 Wonder Woman 1984 has had about as many release date changes as The New Mutants, but I doubt anyone would call it cursed. However, it might be a curse for theater owners.
Since we did it for The New Mutants, lets do it here. This film was originally supposed to come out on December 13, 2019 before being moved up to November 1, 2019. Then it was moved back to June 5, 2020. Then delayed to August 14, 2020.Then to October 2, 2020. Then to Christmas.
However, in this case, that Christmas release date came with a surprise. Warner Brothers announced that the film would be released in theaters and on HBO Max on the same day.
It's no surprise why Warner Brothers would do this. Wonder Woman 1984 is arguably the most anticipated comic book film of the year. If you want to draw subscribers into your flagging streaming service, entice them with something they want. But where does this leave theater owners. Especially considering that Warners announced that all its scheduled 2021 films will be going the same route. Theaters have been hit hard by the pandemic and might have been relying on Warners blockbusters to drawn audiences back in. How many will come in if they can watch it at home instead?
The film itself was great. Unlike The New Mutants, the film didn't suffer for being shuffled on the release schedule. If you want to know in-depth what I liked about it, you can read my full review of it here.
As for 2021, if everything goes well, and that's a big if, 2021 will be a big year for comic book films. The three delayed films are due to be released; Morbius on March 5, Black Widow on May 7, and Eternals on November 5. In addition, Sony will becoming out with the sequel Venom: Let There Be Carnage on June 25, Marvel will release Shang-Chi and The Legend of the Ten Rings on July 9, and the pair will re-team on Spider-Man 3, which will apparently star everyone who has ever been in a Spider-Man ever. and will be released on December 17. Warners slate only has The Suicide Squad, due on August 8. It will be in theaters the same day it is are released on HBO Max, where it will join Zack Snyder's Justice League.