2021 is only five days old, but it seems like the keyword for the year will be "confusion." It started with the conflicting reports that Tanya Roberts had died/was still alive, which caused us to print a retraction after we published an obituary for her, and it continues to today when, within an hour of me writing this, she was reported dead and alive by two different outlets. The next bit of confusion was less grim and serious. It was a brief period of time when Michael Keaton was thought to be returning as Batman in the DC Extended Universe.
This kerfuffle started in a December 27th profile of DC Films head Walter Hamada by New York Times writer Brooks Barnes. In it, future plans for the slate of DC Films was discussed. It was revealed that Warner Brothers would be taking a "multiverse" approach to its film. Barnes specified only two different cinematic earths: Earth One, where Wonder Woman and presumably the rest of the already introduced DC Extended Universe characters will reside, and Earth Two, where Matt Reeves' Batman  film starring Robert Pattinson will be set.
Where thing got really confusing is later on in the profile where DC Films future slate was discussed, including the forthcoming Flash film. It confirms that both Ben Affleck and Michael Keaton will be appearing as Batman in that film. That leaves us with three Batmen for two earths.
Film critic and journalist Nestor Bentancor attempted to get some clarity on the three Batmen in a January 1st Tweet to Barnes.. Barnes appeared to answer Bentancor's question definitively.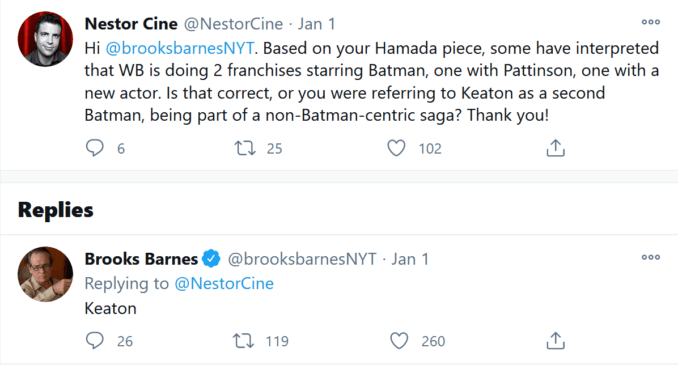 From there it was off to the races. Many news outlets reported that Warner Brothers is bringing back Michael Keaton to be the DCEU's Batman based on this exchange. Needless to say, this was a bombshell that stirred up a lot of Internet controversy, especially amongst the many people who thought Affleck at 48 was too old to play Batman. If he's was too old, then Keaton at 69 was way too old to be the full time Batman.
But everybody got all upset over nothing. Late yesterday, Barnes returned to Twitter to clear everything up:
Been offline (moving apartments) and return to see this Michael Keaton craziness. I was referring to the *one film* that Keaton has been announced as being in, not a set of his own Batman films. If I had info on him beyond "The Flash," I would have obviously put it in my article

— Brooks Barnes (@brooksbarnesNYT) January 5, 2021
I can't say I'm a fan of Barnes' tone here. There was nothing in the original article that specifically states that Keaton was only going to be in one film. But even if there was, when he was asked if Warners was going to recast the role of go with Keaton in the DCEU, Barnes said it was Keaton. He was the cause of all the confusion, not fans misreading what he was reporting.
So, it appears that Keaton is not the new Batman in the DCEU. For now, at least. What will happen to the character in the future is anybody's guess. But if you want to find out, perhaps Brooks Barnes in not the best source for this information.