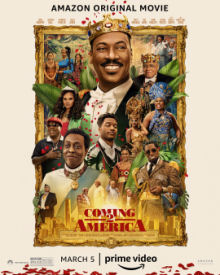 Coming 2 America premiers tomorrow on Amazon Prime.
It has been thirty-three years since we last visited the nation of Zamunda, the fictional African nation that serves as home to Eddie Murphy's Prince Akeem in the 1985 comedy Coming To America. Prince Akeem and his wife, Princess Lisa (Shari Headley), formerly of Queens, New York, are raising three daughters while Akeem continues to prepare for the day he is to take the throne of the kingdom when his father inevitably passes. The one thing he has not been able to do as part of that preparation is sire a male heir. There is pressure on him to marry his oldest daughter off to the son of a neighboring ruler, Akeem suddenly learns of a hitherto unknown son he may have fathered during his first trip to America. So with his faithful friend and advisor Semmi (Arsenio Hall) in tow, he heads back to New York to find him.
And that is the basic setup for Coming 2 America, the clunkily titled sequel to Murphy's comedy hit from three decades past. Much like the original film, this return to the royal house of Zamunda contains a fair bit of comedy mostly courtesy of Murphy and Arsenio's chemistry but also carries a bit deeper story and more detailed attention to character than the original did.
Although his career has had its ups and downs, Murphy over the years has slowly earned himself from dramatic chops. Unfortunately, he hasn't always been afforded the chance to show them off. But following up on 2019's Dolemite Is My name, we see Murphy here tempering his return to the role of Akeem with a bit more characterization. In the original Coming To America, Murphy plays Akeem's innocence rather broadly, not too surprising considering he was only just a few years departed from his star-making work on Saturday Night live. But here, Murphy plays Akeem as some with a number of subtle shadings, a man who is trying to find the balance between being a nation's ruler and being a good family man, between honoring his country's traditions while trying to progressively change some of them.
There are indeed plenty of callbacks to the original film. Some of them are fairly obvious. Murphy and Hall are once again back under the prosthetic makeup as the same assortment of characters they played in the first film. (And yes, no explanation is given as to why none of these people have aged, and I am fine with that.) Some are a little less obvious and may only stand out if one has rewatched the original film recently. And while it could be tempting to dismiss a lot of this as fan service or an Easter egg hunt gone awry, they actually help to create a cohesive connection to the original film and in many cases serve as solid worldbuilding.
Structurally the first act echoes the original film's on a macro level. Akeem is feeling the pressures of the obligation of his royal office and discovers that the answer to his problems may lie in the borough of Queens in New York City. But here is where the film kind of spins the premise on its head a bit and owes a debt to another sequel to a 1980s classic fish-out-of-water comedy – Crocodile Dundee II. Much in the same way that Paul Hogan's Mick Dundee heads back to the Australian outback in the sequel to effectively make his American girlfriend the stranger in a strange land, Akeem takes Lavelle from Queens to Zamunda and tries to educate him in the ways of the new life he is being thrust into. It is an effective inversion as it also allows Akeem to see himself in the young Lavelle and thus gauge where he is now in his own life versus what he thought he would go on to achieve when he was younger.