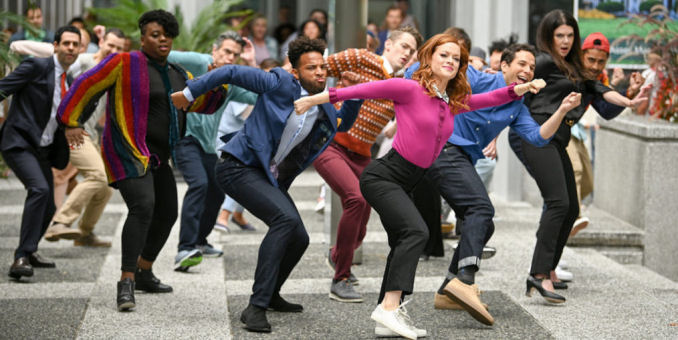 Here's some news that may cause you to sing and dance.
Deadline is reporting that jukebox musical romantic comedy Zoey's Extraordinary Playlist, which NBC cancelled after two seasons this past June, is getting a revival in the form of a holiday TV movie.
According to Deadline's sources, a deal is in the process of being finalized that will see the return of series star Jane Levy as well as the rest of the series regulars for a one-off holiday feature-length special. The movie will air on Roku, the self-named streaming service that the set top streaming device has recently launched. If the reception to the movie is strong, Deadline says it could lead to another full season order of the show.
A rather unique spin on musicals, Levy stars as the titular Zoey, a young software programmer who, after an accident involving an ipod, an MRI and an earthquake, discovers that she can see people's inner thoughts and feelings being expressed by them as song and dance numbers. In other words, the metatextual conceit of musicals becomes the an actual part of Zoey's Extraordinary Playlist's textual narrative. Zoey soon finds herself using this new insight into her friends and co-workers to try and help them with their individual personal problems while also dealing with her own tumultuous love life and career.
The series was a a breakout hit for the network in its first season, with episodes averaging a seven-day viewing figure of 3.1 million viewers between those watching its live airing and those catching up with it via a variety of digital platforms or via DVR within that first week, making Zoey's Extraordinary Playlist the only one of the network's freshman series to get a second season pick up. However, when season two's ratings dropped by 14 percent, NBC dropped the show.
In the early days of the cancellation, producers Lionsgate tried to find a new home for the show at NBCUniversal's Peacock streaming service but xouldnt quite get the financials to work out. Lionsgate kept persuing other oulets for the show even after the cast's contracts expired at the end of June.