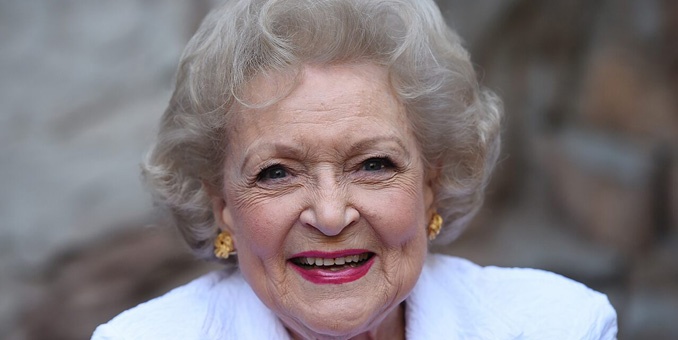 You can say that Betty White has had more than one career in 91 years in entertainment. Pin-up model. Radio actor. Stage actress. Variety show host. Game show guest. Work in television, where she started in the early days of the medium and which gave her six Emmy awards. But she might be best known today as a beloved cultural icon  who transcended her resume to become a beloved figure in pop culture and entertainment, a third act resurgence unlike anything the world had ever seen.
Betty White passed away on her sleep today at the age of 99. She was only 18 days away from her 100th birthday.
White was born in Oak Park., Illinois on January 17, 1922, but her family moved to Los Angeles in 1923. White initially wanted to become a forest ranger, but at the time the service did not accept female applicants. Instead, the world of entertainment called and White never looked back.
Her first work in entertainment was at 8 years old on the radio program Empire Builders in 1930. Nine years later, in 1939, she would make her television debut on the experimental television show, where she an a friend sang a selection of songs.
She worked as a model and on stage before volunteering for the American Women's Voluntary Services, providing support to the military and its soldiers during World War II.
After the war, she tried getting acting work in films. However, the films studios essentially told her she had a face made for radio. So, into radio she want, acting on programs such as Blondie, The Great Gildersleeve, and This Is Your FBI, all which led her to getting her own radio program.
In 1949, she returned to television on Hollywood on Television, which she co-hosted with Al Jarvis until 1952 when Jarvis left and she took over as sole host. In 1951, she was nominated for a an award in the brand new Emmy category of Best Actress. It would be the first of her 21 Emmy nominations.
White would make her home in television for most of the next 50 years, with acting jobs on programs like The Millionaire and Life with Elizabeth. She hosted her own variety show in 1954, The Betty White Show, which lasted only one year. White famously clashed with critics who objected to her featuring Arthur Duncan on her show.
In 1954, #BettyWhite was criticized after having Arthur Duncan, a Black tap dancer, on her show.

Her response: "I'm sorry. Live with it."

She then gave Duncan even more airtime. The show was canceled soon after.

Rest well, Betty. #ThankYouForBeingAFriend pic.twitter.com/3rQRTHOPe7

— The Martin Luther King, Jr. Center (@TheKingCenter) December 31, 2021
During the 1960's, White's quick wit made her a frequent quest on the talk show and game show circuit. She made one foray into feature films during this time with 1962's Advise and Consent.
White's career took on a new dimension in 1973 when she joined the cast of The Mary Tyler Moore Show. The writers created a new female character to replace the departing Valerie Harper. The character was Sue Ann Nivens, host of The Happy Homemaker show in the series, who was described as being as sweet as Betty White while on air, but a cynical, man-hungry cougar off screen. The producers brought White in for auditions for the role and the rest was history. White would be nominated for three Emmy's for the part, winning two.
After The Mary Tyler Moore Show ended, White had a short lived TV show of her own, The Betty White Show, before returning to guest appearances on other shows. Most notable of these appearances is on The Carol Burnett Show, where she created the character of Ellen Harper Jackson in sketches featuring Vicki Lawrence's Mama character. She would reprise the role in the Mama's Family TV series.
In 1983, White became the first woman to win an Outstanding Game Show Host Daytime Emmy for hosting Just Men!.
Two years later, White would create a second iconic role for herself in Rose Nylund, the terminally naive widow who has retired to Florida with three friends in The Golden Girls. White would be nominated for seven Outstanding Lead Actress in a Comedy Series, winning the award once. When the series went off the air, she starred in its short-lived follow up, The Golden Palace.
Post-Golden Girls, White finally developed a film career, appearing in films such as Lake Placid, The Proposal and You Again. She also continued to make guest appearances on other shows (including an Emmy winning spot on the John Larroquette Show), provided her voice to a number of animation projects, and commercials.
One such commercials was a Snickers ad, where White portrayed an alter ego of a man who acted like an octogenarian when he was hungry. THe ad was immensely popular, and led to White becoming an icon to a whole new generation of viewers. A petition was started to have White host Saturday Night Live. The petition worked, and she hosted the show in May of 2010, just  month before her last sitcom work, Hot in Cleveland, debuted on TV Land. White was the oldest person to host the show in its history and she would win another Emmy for her work hosting the show.
White would become a Disney Legend in 2009, and receive Lifetime Achievement Awards from the Emmy's in 2015 and the Screen Actor's Guild in 2010. She would also be nominated for four Golden Globes and win a Grammy for Best Spoken Word Recording for the audiobook for her autobiography, If You Ask Me (and Of Course, You Won't) in 2011.
At the time of her death, Fathom Events was planning a documentary celebration, Betty White: 100 Years Young – A Birthday Celebration, that was to be released on her 100th birthday, January 17, 2022. According to the film's producers, Steve Boettcher and Mike Trinklein, that tribute will now become a memorial.
Our hearts mourn today with the passing of Betty White. During the many years we worked with her, we developed a great love and admiration for Betty as a person, and as an accomplished entertainer. We are thankful for the many decades of delight she brought to everyone. Betty always said she was the "luckiest broad on two feet" to have had a career as long as she did. And honestly, we were the lucky ones to have had her for so long.

We will go forward with our plans to show the film on January 17 in hopes our film will provide a way for all who loved her to celebrate her life—and experience what made her such a national treasure.

The celebration of America's sweetheart includes her star-studded cast of friends including Ryan Reynolds, Tina Fey, Robert Redford, Lin Manuel- Miranda, Clint Eastwood, Morgan Freeman, Jay Leno, Carol Burnett, Craig Ferguson, Jimmy Kimmel, Valerie Bertinelli, James Corden, Wendie Malick, and Jennifer Love Hewitt.

You'll experience Betty's funniest moments on The Golden Girls, hosting SNL, Hot in Cleveland, The Proposal, The Mary Tyler Moore Show—and a lost episode from Betty's very first sitcom. Plus Betty reveals inside stories of her amazing life and career.