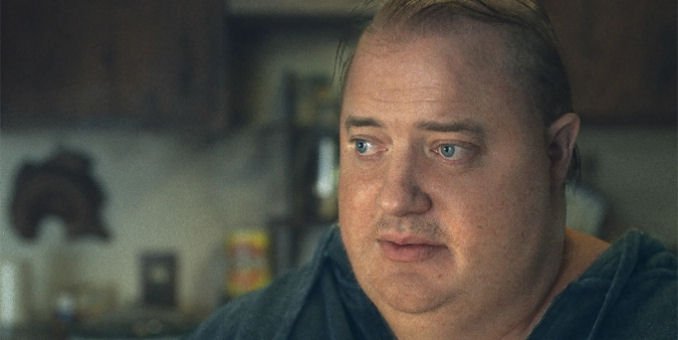 The Whale goes into theatrical release on December 9.
Charlie is an isolated man, both emotionally and physically.
Estranged from his ex-wife and daughter, Charlie (Brendan Fraser) leads a somewhat solitary existence. Teaching an online college-level composition class, he can keep his own camera off, so his students don't have to reveal himself to his students, afraid of possible mockery due to being morbidly obese. His only real contact with the outside world – outside of a pizza delivery guy who leaves Charlie's orders on the doorstep of his apartment – is his friend Liz (Hong Chau), a nurse who implores Charlie to take better care of himself to no avail. But after Liz diagnoses him with congestive heart failure and having just a week or so to live if he doesn't get to a hospital, Charlie refuses to seek medical treatment. Instead, he reaches out to his daughter Ellie (Sadie Sink) in an effort to impress upon her that she has worth, even when he can not recognize that in himself.
At its core, The Whale is a movie about heartbreak, loss and regret. Having destroyed his marriage and his relationship with his daughter by walking out, only to lose the love of his life, Charlie feels as if there is no one left in the world who could love him. And without love, he has slowly let what health he had slip away as he allowed himself to gain an unhealthy amount of weight while wallowing in self-pity and remorse.
Is the empathy generated here for Charlie somehow rooted in nostalgia for the Brendan Fraser of old, the dashing adventurer, the charmer with the boyish good looks? Perhaps, in part. But the movie certainly doesn't coast on that and as it progresses and we learn more about him, that empathy grows. And that is due to Fraser's subtle, layered performance here. It isn't about the prosthetic makeup that is used to transform Fraser into the home-bound Charlie. Fraser is able
Based on a stage play by Samuel D Hunter, Aronofsky has resisted the cinematic urge to expand the confines of the story beyond the source material's sole setting of Charlie's apartment. To do so would undercut Charlie's self-imposed confinement. The living room is as much a prison for Charlie as he has allowed his body to become as well. And while the apartment may be confining for Charlie, it never becomes that way visually for the audience. Aronofsky and director of photography Matthew Libatique manage to shoot the set in a way that never feels repetitious but still manages to convey the sense of isolation in Charlie's life.