The year 2022 has been an odd one for movies. Still reeling from pandemic-forced production shut downs in 2020, theaters weren't quite as packed with the number of big blockbusters as they had been. Despite that, the Marvel Cinematic Universe seemed back up to full speed, though it was sequels to two of the biggest hits of years gone by that would prove to be the biggest box office attractions. But it was a good year for smaller films as well, with a number of them gaining traction at the box office and not being unceremoniously shuffled off to streaming services right away.
Here is my personal ten best of the year – along with a baker's dozen of honorable mentions – films certainly worth the watch even if you might think that they are not necessarily you personal cup of tea. They're listed alphabetically rather than in any ranked order. At this point, they're all worthy of discussion as some of the best films 2022 had to offer.
Avatar: The Way Of Water
The thirteen year gap between James Cameron's groundbreaking 2009 film Avatar and its sequel Avatar: The Way Of Water was certainly worth the wait. The writer/director takes us back to the world of Pandora, exploring new corners of that alien landscape while simultaneously pushing the boundaries of the film-making technology that he is using to depict it. Our return finds Jake Sully fully ensconced in his alien Na'vi body and raising a family when a new contingent of humans from Earth arrive to wreck ecological havoc on Pandora. Utilizing projection techniques like variable high frame rates and 3D, Cameron immerses us into a natural world of beauty while still showing us his mastery at construing elaborate action set pieces like those that make up the film's third act.
Emily The Criminal
This debut feature from writer/director John Patton Ford is a scathing indictment of the collapse of the American Dream for an entire generation. Aubrey Plaza stars as a woman in her mid-30s who still has to juggle multiple jobs to make ends meet and can find no upward advancement due to a criminal records stemming from one moment of anger. With crushing student loan debt, she stumbles into a way to ease her financial burden somewhat – a low-level retail store credit card scam. Plaza delivers a nuanced, low-key performance here as a woman who has tried to play by the rules, only to be struck down at every turn, holding back an anger that she makes us feel is entirely justified.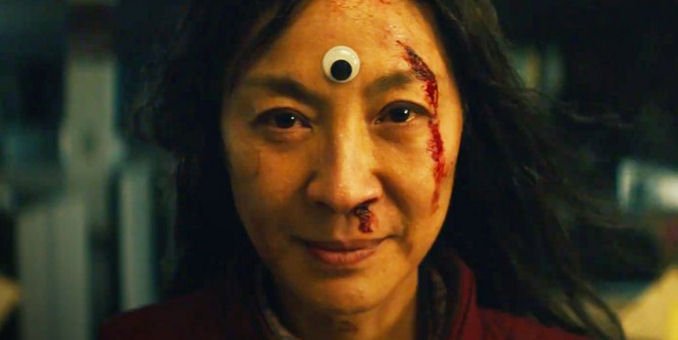 Everything Everywhere All At Once
We've come a long way from that moment in Back To The Future II (1989) when the film just ground to a halt to explain to its audience what the idea of what a multiverse is. But thanks in part to the growing proliferation of science-fiction television series and movies that have brought such a fantastical element into their storytelling, it is a concept that modern audiences are familiar with and don't necessarily need to have a manic scientist chart out what's happening on a blackboard. But this film from writer/directors Daniel Kwan and Daniel Scheinert is more than a fun-filled romp through the many different versions of a life that laundromat owner Evelyn (Michelle Yeoh) could have lived as it is an examination of one's own choices and how they learn to live with both those choices and the regrets over the paths not taken. And in an ensemble all offering stellar performances, Ke Huy Quan – best known for his childhood roles in The Goonies and Indiana Jones And The Temple Of Doom – stands out in a role of that requires him to show multiple dimensions (pun only partly intended).
Moonage Daydream
As an evolving musical artist, David Bowie was as mercurial as they come. Sliding through a number of personas and styles across the decades – from his Ziggy Stardust space-age glam rock era in the early 1970s through his "Plastic Soul"/Thin White Duke period of the latter part of that decade to his suave pop star of the 1980s to his experimentations with the harder industrial sound of Tin Machine in the early `90s – Bowie sought to challenge critics and audiences not with just where his muse led him in terms of musical style but in terms of how it challenged society's notions of fashion, sexuality and the intersection of pop music and art. Moonage Daydream takes through just a portion of Bowie's career, but does so in an interesting way. This is not the standard biographical documentary going through it's subject's life cutting between old footage and new interviews with people who knew him. Director Brett Morgen instead takes previously unreleased footage of the singer and constructs an impressionistic montage of his early career, a tone poem that perhaps imparts the experience of David Bowie and his music far better than a more traditionally styled film would be able to.
The Outfit
A quiet tailor shop serves as a drop point for a Chicago mob in the 1950s is the setting for this taut, self-contained thriller from screenwriter-turned-director Graham Moore. Mark Rylance's tailor seems like a quite man, content to create impeccably crafted suits for his clientele, while turning a blind eye to the comings and goings of the gangland hoods who utilize the discrete post box in the back room. That is until one evening when a conflict between two different sets of mobsters forces its way into his shop, leaving the tailor to think fast or else he and his assistant (Zoey Deutch) might not live to see the dawn. Moore evidences a strong, steady hand on the story, ever so slowly turning up the tension until the film's finale, when you realize that you are right on the edge of your seat.
RRR
Some folks may have preconceived notions about Indian popular cinema and director S.S. Rajamouli's RRR delivers it all in spades. An action movie but with romance and a couple of musical numbers, Rajamouli's tale of revenge, revolution and brotherhood in early 20th century colonial India is a full on entertaining blast of cinema. The country's various regional cinema scenes have been making movies oft his ilk for decades, but for some reason this was the one that caught on with a wide western audience. To say more would be to perhaps spoil a number of the film's delights, suffice it to say, if you can see it on a theater screen with an audience, be prepared for a rollicking good time.
Tar
Like James Cameron, Todd Field may take a long while between directorial projects, but they are always worth the wait. Here the writer/director is back behind the camera for the first time since 2006's Little Children with the story of a world renowned composer and conductor whose narcissistic behavior begins to catch up with her with disastrous results for her career and those around her. Cate Blanchett delivers a nuanced and at times sublime performance that makes us empathize with Lydia, even as we see her sink deeper into a personal and professional quagmire of her own making.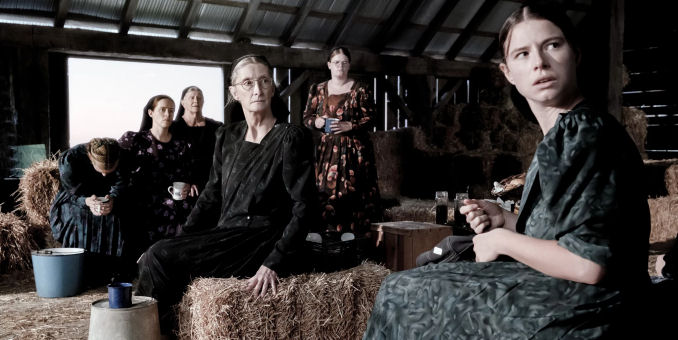 Women Talking
When a series of sexual assaults are basically ignored by the men of an isolate Amish-like community, the women gather to discuss what they should be done to protect themselves. The men of the colony are no help as they publicly dismiss the accusations as either figments of the women's imaginations or punishments from God for some undefined transgression. The resultant conversation sees the women torn between what will be best for them and what they believe their religion asks of them. Director and co-screenwriter Sarah Polley keeps the proceedings from become just an academic debate about scripture interpretation and religious dogma by fleshing out the ensemble – which includes Rooney Mara, Claire Foy, Jessie Buckley and Frances McDormand – giving them differing points of view that are explored. The result is a film that is simultaneously both smart and emotionally moving.
We Might As Well Be Dead
The debut feature from Russian-German Natalia Sinelnikova, We Might As Well Be Dead is a dark fable, a social satire examining how fragile society can be when the feeling of security is threatened and how legitimate concerns can escalate to paranoia and fearmongering. In the near future, people live in isolated, gated apartment tower blocks, fearful of a never defined danger lurking i the woods beyond their walls. A complaint about one of the residents' missing dog spirals out of control, leading to an escalation of paranoia, fearmongering and ultimately mobs patrolling the corridors, looking to dispense their own idea of justice. Obviously, a story like this coming from a German director carries a certain historical weight to it, but the film also resonates on an uncomfortable level with many events of the past few years.
Weird: The Al Yankovich Story
It makes absolute sense that this is the movie that comedy musician "Weird Al" Yankovic would make about his own life. A faux-biopic, Weird: The Al Yankovich Story takes some of the broad facts of the early part of Yankovic's career and filters them through his unique comic sensibility – Yankovic co-write the film with director Eric Appel – and delivers, in essence, the only movie he could a story about a young man who invents the idea of parody music, romances Madonna and takes on a Colombian drug lord all the while taking the tropes of the musical biopic and turning them on their ear. The parodist has turned himself into the parody and the result is easily the relentlessly funniest film in several years.
Honorable Mentions
All The Beauty And The Bloodshed
Bad Axe
The Banshees Of Inisherin
Catherine Called Birdy
The Fablemans
Glass Onion: A Knives Out Mystery
Good Night Oppy
Guillermo Del Toro's Pinocchio
Holy Spider
The Menu
The Sea Beast
Turning Red
The Whale