Perhaps the biggest object of speculation over the look of J. J. Abrams new Star Trek reboot was the design of the franchise iconic starship, the USS Enterprise. Paramount Pictures has passed along our first look at Abrams' re-imagining of the Enterprise to the folks at Entertainment Weekly, and we have posted to the right. (Click to enlarge.)
I have mixed feelings about the design. I like the look of the engine nacelles, for some reason they remind me of old 1950s/60s cars that had those fins on either side on the back. The engineering section looks good and I like how the deflector dish at the front combines the old style "radar dish" look of the original television series with the lightup version of the movies and subsequent television series.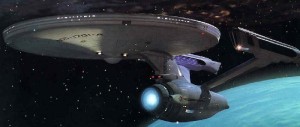 The thing that is really throwing me, though, is the dorsal fin connecting the saucer section with the engineering section. It feels like it is sitting just a bit too far back, losing the sense that the Enterprise looked as if it was leaning or surging forward as seen in the image to the left.
So what are your thoughts? Is the new Enterprise the New Coke of Star Trek?