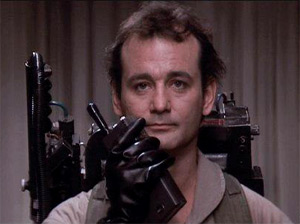 In an interview with London's Daily Mail yesterday, Bill Murray confirmed that he will definitely be in the in development Ghostbusters III. He also mentioned the extent of his involvement in the film. Be warned- There is a definite spoiler in his comment.
The rest of the interview covers Murray's love of golf ("There's nothing funnier than seeing grown men near to tears because they've missed hitting a little white ball into a hole from 3ft."), his thoughts on comedy getting snubbed for the Oscar ("Laughter and the lighter moments of life always seem easy to deliver. I don't expect those giving out the awards to understand.") and his film Groundhogs Day ("Groundhog Day should have been one of the biggest hits of all time."). If you can avoid the Ghostbusters III spoiler, which comes fairly late in the interview, the rest is well worth your time.

As for what conditions he placed on returning to play paranormal activity scientist/exterminator Peter Vehnkman, Murray stated-
I'll come back in Ghostbusters III only if I get to be a ghost. I said to them, 'I'll do it if you kill me off in the first reel.' So now they are going to have me as a ghost in the film.
Murray has been saying for some time that if there were a third Ghostbusters film, he would like to come back as a ghost and now it looks as if he is going to get his wish. While I am not sure it is such a great idea, I am willing to see it played out.