We've known for a little while that a home video release reuniting Robert Rodriguez's Planet Terror and Quentin Tarantino's Death Proof back to their original Grindhouse double-feature has been in the works. Veivendi Home Entertainment has now announced the film as coming to DVD and Rlu-Ray on October 5.
The DVD and blu-ray releases will be two disc sets with the first disc showcasing Grindhouse in its original theatrical format* with a host of extras on the second disc. The Blu-ray will also feature additional extras. You can read the full rundown of extras underneath the blu-ray box art.
* The released specs don't list the faux Machette trailer. I'm not sure if that is an oversight or if there is a rights issue now that Rodriguez has expanded it in to an actual feature hitting theaters September 3.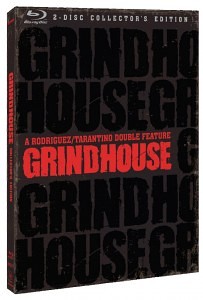 Disc 1 – Theatrical Exhibition:
Grindhouse Feature (Planet Terror)
Intermission Cards
Don't Trailer
Werewolf Women of the S.S. Trailer
Thanksgiving Trailer
Grindhouse Feature (Death Proof)
Disc 2
Planet Terror
Robert Rodriguez's 10-Minute Film School
The Badass Babes of Planet Terror
The Guys of Planet Terror
Casting Rebel
Sickos, Bullets, And Explosions: The Stunts of Planet Terror
The Friend, The Doctor, and the Real Estate Agent
Planet Terror Poster Gallery
Death Proof
Stunts On Wheels: The Legendary Drivers of Death Proof
Quentin's Greatest Collaborator: Editor Sally Menke
The Guys of Death Proof
Kurt Russell as Stuntman Mike
Finding Quentin's Gals
The Uncut Version of "Baby, It's You" performed by Mary Elizabeth Winstead
Introducing Zoe Bell
Double Dare Trailer
Death Proof Extended Music
Death Proof Poster Gallery
Blu-Ray exclusive bonus features:
Robert Rodriguez's 10-Minute Cooking School
The Makeup Effects of Planet Terror
The Hot Rods of Death Proof
Texas to Tennessee: The Production Design of Death Proof
Trailers
Werewolf Women of The SS Trailer
View Extended Cut Of Werewolf Women of the SS Trailer with Commentary by Director Rob Zombie
The Making Of Werewolf Women of the SS Trailer
Extended Don't Trailer
View Extended Cut Of Don't Trailer with Commentary by Director Edgar Wright
The Making of Don't Trailer
Don't Storyboard/Trailer Comparison
View Don't Storyboard/Trailer Comparison with Commentary by Director Edgar Wright
Don't Storyboards Still Gallery
Don't Poster
The Making of Thanksgiving Trailer
New York Times Talk with Quention Tarantino and Lynn Hirschberg at Comic Con 2006 Featuring the Directors and Cast of Grindhouse
Grindhouse Trailer Contest Winner Hobo With A Shotgun