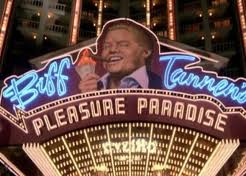 The folks over at Back To The Future fansite BTTF.com have unveiled a pretty cool bit of production history from the second installment of the comedic time travel trilogy. It is the full monitor footage from the "Biff Tannen Museum" scene that serves to explain to Marty McFly (Michael J. Fox) how the alternate version of reality he is in came to be. While we do get to see some of the footage in the film,it has never been seen in its entirety until now. (I bet the folks who put together the recently released 25th anniversary DVD and Blu-Ray sets are wishing they knew of this footage's existence while they were working on the project…)
BTTF.com got the footage from a fan who had connections to the production and who had been holding on to a video tape copy all these years.
The clip runs about three and a half minutes and gives us a glimpse at the depth of detail and thought that went into the making of the films.