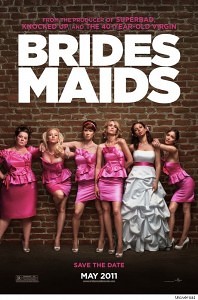 I've often lamented that women don't seem get to be funny in movies the same way men do. Men can be witty and smart about their comedy, base or erudite. Women just seem to get to be pretty, make a face and then fall over. Time and again actresses like Ilsa Fisher are regulated to flailing around in frenetic screwball fashion in films like Confessions Of A Shopaholic or Wedding Crashers or the cast from Sex And The City traipsing around in foreign countries crapping on the local customs.
But could it be possible that the upcoming comedy Bridesmaids reverses that trend? Two of its female leads are Saturday Night Live alum Kristin Wiig and Maya Rudolph, with Wiig co-writing the script with Annie Mumolo, a current member of the famed Los Angeles comedy troupe The Groundlings. Directing the film is Paul Feig, who has a number of Arrested Development and The Office episodes to his credit. All together, there's a lot of talent that promises more than just pretty faces and pratfalls.
The trailer just released for the film sells it as a female version of The Hangover and even though I am not the biggest fan of that film, I still think that would be a step up from what we've seen in the last few years.