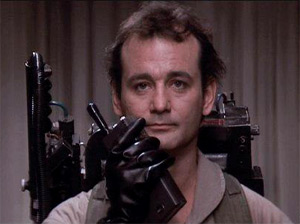 It has been a bit quiet as of late in the long, continuing saga of Ghostbusters 3's development. Everyone has been waiting since last year at this time for Bill Murray to get around to reading the proposed script, but he seems to be taking his time in doing so. But now franchise co-star and co-creator Dan Aykroyd has hinted that they might just move forward without Murray's participation.
In an interview with the British genre magazine Empire, Aykroyd denied the recent rumor that Murray shredded a copy of the proposed script and sent the remains back to him with a note saying to the effect that no one wants to see a bunch of old men chasing ghosts.
Bill Murray is not capable of such behaviour. This is simply something that would not be in his nature. We have a deep, private personal relationship that transcends business. We communicate frequently and his position on the involvement in Ghostbusters 3 has been made clear and I respect that. But Bill has too much positive estimation of my writing skills to shred the work.
But the real takeaway from their interview was this comment-
Even more intriguingly, Aykroyd hinted that Bill Murray may not return as Peter Venkman, and that the character could be played by a different actor, a la Jack Ryan.
Now I'll admit that I wish Empire had a direct quote here, but even without one this is still an interesting development. Aykroyd may be entertaining going ahead with a different actor in Murray's part, but will folks find another an actor in the role as entertaining as Murray has been? Will studio executives even give us a chance to find out if a different actor in the role would be accepted by the public.
Murray has been such a key component of the two films that it would seem like suicide to continue without him. But the same thing was thought about Sean Connery leaving the James Bond franchise, but that seemed to continue on just fine. Who could takeover for Murray and still do a credible job in the role? Murray's Caddyshack role was recast  for the sequel, but the actor who stepped in was Aykroyd, so he's out. I am at a complete loss as to who the role could be given to. It would seem that the more prudent thing to do, if you recklessly want to go ahead without Murray, would be to write an explanation as to why Peter Venkman isn't around and continue your story from there.
But let's not forget that this would not be the first time that the role of Dr Peter Venkman has been recast. Originally, Aykroyd had written the film with his good friend John Belushi in mind for the part and it was only after Belushi's death did Murray get the role. Additionally, for the Real Ghostbusters animated series veteran voice actor Lorenzo Music supplied the voice of the character for the first two seasons before being replaced, by the far inferior in my opinion, Dave Coulier.