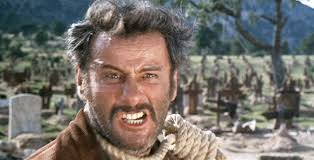 Eli Wallach, the iconic actor of stage and screen whose career spanned some eight decades, died yesterday. He was 98.
Primarily a character actor, his lead roles in film were often complex characters that left indelible impressions on moviegoers minds. His very first silver screen appearance was as the lecherous business rival of Karl Malden intent on seducing his virgin bride in Elia Kazan's highly controversial at the time Baby Doll in 1956.
Wallach's most memorable turn on the screen was his role of Tuco, the bandit who made up the final third of the titular The Good, The Bad And The Ugly, Sergio Leone's iconic 1966 spaghetti western which starred Clint Eastwood. Another of Wallach's memorable roles came in another western, the ensemble The Magnificent Seven (1960).
Additional memorable film roles include appearances in Don Siegel's The Lineup (1958), John Huston's The Misfits opposite Clark Gable and Marilyn Monroe in their final film appearances, How to Steal a Million (1966), Cinderella Liberty (1973) and The Godfather: Part III (1990).
The Brooklyn-born Wallach got his start on the New York stage after serving in World War Two, and in 1948, along with his wife actress Anne Jackson, joined with Elia Kazan, Cheryl Crawford and Bobby Lewis and others in founding the famed Actors Studio.
Although he won aTony and an Emmy for his stage and television work, he never won an Academy Award for a specific film performance. The Academy Board of Governors corrected that error in 2010 when they awarded Wallach an Honorary Academy Award for "a lifetime's worth of indelible screen characters."