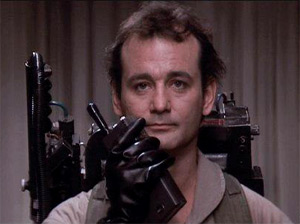 This weekend I managed to catch up with the 30th anniversary Ghostbusters re-release that is currently in theaters. As I sat in the dark, munching popcorn to keep myself from reciting dialogue along with Bill Murray, Dan Aykroyd and the rest, I found myself once again admiring the lightening-in-a-bottle chemistry between the leads and thinking that with co-star Harold Ramis' passing earlier this year and Murray's ongoing reluctance to return for a third film, any type of follow up would be a fool's errand, even as much as I had been hoping to see one materialize over these past several years when it was a distinct possibility.
Bill Murray, though, seems to think that rebooting the franchise may be a good idea and as he has given some though to the current reports that Sony wants to make the series a vehicle for an all-female ensemble. Speaking to the press at the Toronto International Film Festival, he sounded downright enthusiastic –
I would go to that movie, and they'd probably have better outfits, too.
Murray has also given some thought as to whom he might like to see in those better outfits.
Melissa [McCarthy, his co-star in the upcoming St. Vincent]would be a spectacular Ghostbuster. And Kristen Wiig is so funny — God, she's funny! I like this girl Linda Cardellini (Mad Men) a lot. And Emma Stone is funny. There are some funny girls out there.
Admittedly, that is a good group of funny ladies, and they might be able to generate a good chemistry between themselves. McCarthy and Wiig have already shown that they work well together when they co-starred in Bridesmaids. And another good sign is that film was directed by Paul Feige, who is reportedly being talked with to helm this film. But I still think we would be better served by maybe giving those talented ladies their own, original vehicle to shine.