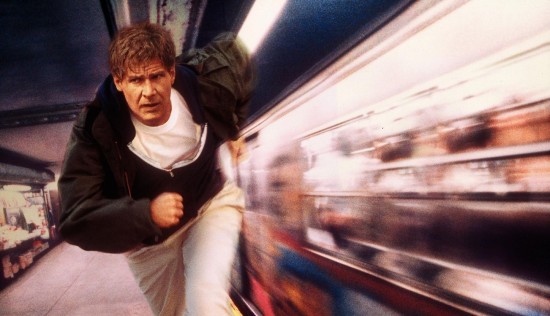 Dr. Richard Kimble is going back on the run.
Deadline is reporting that Warner Brothers has put into development a new iteration of its classic The Fugitive property. The producers of the 1993 film version, Arnold and Anne Kopelson are returning to produce this new iteration. Deadline is stating that the Kopelsons did not state whether the film's stars Harrison Ford and Tommy Lee Jones would be returning, but I am guessing that the studio would rather a straight reboot of the property rather than a sequel 22 years after the original.
The Fugitive started off as a popular 1960s TV series in which Dr. Richard Kimble (David Janssen), after being wrongly convicted of murdering his wife, goes on the run from the law, trying to find the mysterious one-armed man he saw at the scene of his wife's death. In pursuit is Lt. Philip Gerard (Barry Morse), always one step behind Kimble. The series ran for four years before it, in a rarity for the time, provided a resolution to its storyline.
The feature film, which featured Jones in pursuit of Ford, was a runaway (sorry) hit, grossing $369 million worldwide. It spun off a sequel for Jones' character, US Marshals, which featured him on the hunt for Wesley Snipes and Robert Downey Jr.
While it does seem as if a new Fugitive film seems like another sign of the lack of creativity in Hollywood, I dare say that given the surveillance state that we live in today, there is plenty of fertile new ground that could be covered in a story about a man on the run from the law.