Paul Feig's Ghostbusters reboot wrapped principal photography this Saturday, and managed to get in one last cameo from an original Ghostbuster. We'll let Feig himself explain via two tweets.
It's a wrap on Ghostbusters!!! pic.twitter.com/gzQFRrLUYU

— Paul Feig (@paulfeig) September 19, 2015
Thanks to the great @Ernie_Hudson for joining us on our last day of production. He is a class act and an incredibly talented and funny man.

— Paul Feig (@paulfeig) September 19, 2015
Previously, original Ghostbusters cast members Bill Murray, Dan Aykroyd and Annie Potts have shot cameos for the film.
Coming Soon got some pictures of the shoot, including this one here of Hudson with reboot co-stars Melissa McCarthy and Leslie Jones.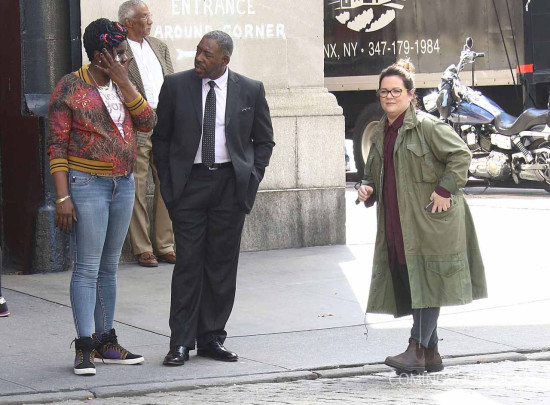 Interestingly, for all the coverage that the last day of filming has gotten in the online genre press, no one else has spotted the most obvious thing in this and several other paparazzi photos that have popped up over the weekend. The production was shooting down on the corner of North Moore and Varick Streets, below Canal Street in downtown Manhattan. What's so special about that Tribeca neighborhood intersection, you might ask? Well, it just happens to be the home of Hook & Ladder 8, or as it is better known in this instance – the original Ghostbusters firehouse. It looks like Feig snuck a second cameo into Saturday's shooting as well.
How can we tell? Well, while some folks seemed to be obsessed with the toys in the foreground of Feig's "We've wrapped" tweet, the firehouse is very clearly visible in the background. Now granted, that picture could have been taken special at the firehouse, but it is pretty clear that the toys are posed on top of a video monitor, like the ones found on sets. Also, in the picture of Hudson, Jones and McCarthy, that is clearly the corner of the iconic Ghostbusters firehouse that they are standing in front of.
The new Ghostbusters will star Kristen Wiig, Kate McKinnon, Melissa McCarthy, Leslie Jones, Andy Garcia, Cecily Strong, Michael K. Williams, Matt Walsh, Chris Hemsworth and Neil Casey.
Ghostbusters hits theaters July 15, 2016.