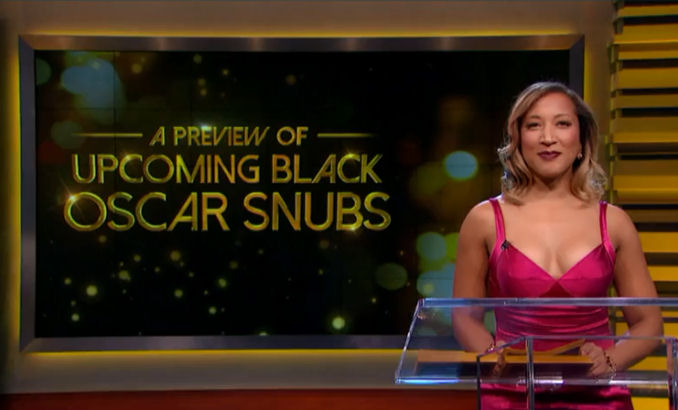 This week's announcement of the nominees for the upcoming Academy Awards were not without their controversy. Even though there were plenty of critical accolades that have been extended towards African-American actors and filmmakers, the list of nominees was shockingly absent their names. But the late night hosts at Comedy Central's The Daily Show and The Nightly Show anticipated the subs and reacted with some biting and funny critiques.
On Wednesday, the evening before the Oscar nominees were to be announced, The Nightly Show host Larry Wilmore anticipated that their would be a lack of African-American nominees the next morning. Together with his show's head writer Robin Thede, he presented the bit "A Preview of Upcoming Black Oscar Snubs" in which they revealed, awards ceremony-style, which worthwhile film work done by African-Americans in 2015 would be overlooked by the Academy Awards.
Eight hours later, the comedy proved prophetic as there were absolutely no black nominees when the actual Academy Award nominations were announced Thursday morning.
Daily Show host Trevor Noah and corespondent Roy Wood, Jr. dived into why that might have been that evening with a piece that looked at what it took black actors and behind-the-camera creatives to get previous nominations and what they will need to secure future nominations.
If the Academy thinks that this controversy is going to go away anytime soon, they would be sorely mistaken. There is sure to be much more bandwidth and ink spent on the situation. And the jokes won't be going away any time soon. Remember, Chris Rock is hosting this year's Academy Awards.