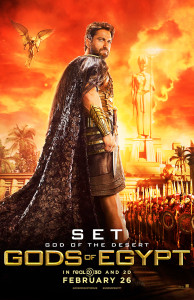 1. Gods of Egypt (Lionsgate/Summit Entertainment, 3,117 Theaters,127 Minutes, Rated PG-13 for fantasy violence and action, and some sexuality, Rotten Tomatoes Tomatometer: 13% Fresh [40 reviews]): Seriously, this has got to be some kind of tax write off, right? A feature film equivalent of "Springtime for Hitler" from The Producers? I mean, they don't really expect this film to make money, do they?
Is Egyptology still a thing? It's not like it's the 1930s and we just discovered King Tut's Tomb. Kids these days don't have the same passion for Egypt that they might have had in years past. And while Greek/Roman mythology is well known across the world, Egyptian mythology is not.
Then they cast three Aussies, a Dane,  a Scot, a Brit, (all varying degrees of pale), an American, and a Frenchwoman (whose coloring matches the continent at least), as Egyptians or the gods the worship. Like, really, that wasn't going to backfire on them. Yes, they will probably claim that audience wouldn't come to see the movie with people of color in the lead roles. Well, not a lot of people are coming to see Gerard Butler in a lead role either.
Analysts are predicting a $10 million weekend for the film. Considering the film cost over $140 million to make, that would be disastrous enough. However, I see it making far less.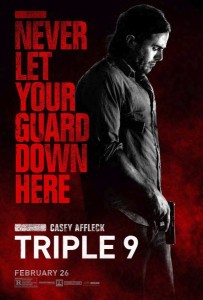 2. Triple 9 (Open Road Films, 2,205 Theaters, 115 Minutes, Rated R for strong violence and language throughout, drug use and some nudity, Rotten Tomatoes Tomatometer: 59% Fresh [87 reviews]): Sometimes a film comes along from out of nowhere that has a cast so great that you have to wonder why it didn't get more buzz. This is one such film.
The cast features three Oscar Nominees (Casey Affleck, Chiwetel Ejiofor and Woody Harrelson), an Oscar winner (Kate Winslet), an Emmy winner (Aaron Paul), and Emmy nominee (Michael Kenneth Williams), a woman who has carried the lead in a good number of films (Teresa Palmer), one of the most underrated young actors working today, who also is Marvel's Falcon (Anthony Mackie), a woman whose career is going to explode when she hits screens as Wonder Woman next month (Gal Gadot) and Norman Reedus, the breakout star of The Walking Dead. This is a casting directors dream.
The film centers on a group of crooked cops forced to make a heist to get out of a jam with the Russian mob. Their idea is to call in a 999–officer down–to distract their brothers in blue. However, the officer they were going to put down has different ideas about the plan.
3. Eddie the Eagle (Fox, 2,042 Theaters,105 Minutes, Rated PG-13 for some suggestive material, partial nudity and smoking, Rotten Tomatoes Tomatometer: 71% Fresh [59 reviews]): I'm old enough to vaguely remember Eddie Edwards run at the 1988 Winter Olympics in Calgary, Canada. He, along with the Jamaican bobsled team, were the feel good stories to come out of those games, as they were both ill prepared for the task at hand.
Edwards was a skilled downhill skier who could never make the Great Britain Olympic team. He decided to make a switch to become a ski jumper, a much easier team to make because Great Britain didn't have one. So he train in that sport, using borrowed equipment and sleeping in mental hospitals to save money.
Edwards eventually made it to Calgary where he promptly finished last in every event he competed. The rules were changed to keep people like him from ever competing again, but Eddie had become a brief pop culture sensation in the process.
This makes for a feel-good, inspirational sports film with a twist. It's gotten the best reviews of the week, so it might be worth a shot if you have some time to spare.