1. The Jungle Book (Disney, 4,025 Theaters, 105 Minutes, Rated PG for some sequences of scary action and peril, Rotten Tomatometer at Press Time: 94% Fresh [141 Reviews]): Disney  has had a lot of success with creating live action version of its legendary animated hits, and this film is one of two coming from the company this year.
This adapts the classic Rudyard Kipling novel of a boy named Mowgli (Neel Sethi) who was raised by wolves in the jungle. When Shere Khan (Idris Elba), a tiger with bad experiences with humans, forces Mowgli to flee his pack, he must negotiated the jungle, finding more friends and foes along the way.
With great reviews and an all-star voice cast, this one might be worth your time.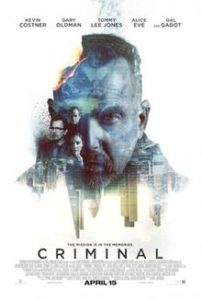 2. Criminal (Lionsgate/Summitt, 2,683 Theaters,113 Minutes, Rated R for strong violence and language throughout, Rotten Tomatometer at Press Time: 27% Fresh [60 Reviews]): I've often said that we will one day have a non-comic book film made up completely of actors who have appeared in comic book films. Well, we come damn close with this one.
Let's do a roll call. We have Deadpool, Pa Kent, Wonder Woman, Commissioner Gordon, Two-Face, Zod's lackey Faora and geek-related-but-not comic-based Carol Marcus. And we almost had Ghost Rider instead of Pa Kent.
What's the film about? It's about a death row inmate who is implanted with the memories and secrets of a CIA agent and then given the task of finishing the agents mission.
3. Barbershop: The Next Cut (Warner Brothers, 2,661 Theaters,112 minutes, Rated PG-13 for sexual material and language, Rotten Tomatometer at Press Time: 92% Fresh [51 Reviews]): At one time, 12 years would have been thought as too long of a gap for a sequel. Not anymore. This one arrives in theaters over a decade after the last installment.
Most of the cast had returned as they face two new problems, female stylist having been hired, shaking up the old boy network, and the decay of the neighborhood the shop is in.
The reviews for this sequel has been strong, so maybe we won't have to wait 12 years for the next installment.