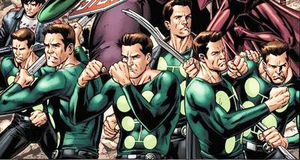 Fox is adding another film into their X-men franchise and James Franco is being set up to headline it.
Deadline is reporting that the studio is putting into development Multiple Man, a film based on the X-Men anti-hero character. Wonder Woman screenwriter Allan Heinberg will be handling the script details for the film with X-Men franchise producer Simon Kinberg continuing those duties on the new spinoff. Everyone's deals are reportedly being worked out now.
Franco will star as Jamie Madrox, a mutant who has the ability to create multiple copies of himself. The character first appeared in Giant-Size Fantastic Four #4 and has been and on-and-off again foe of both the Fantastic Four and the X-Men. More recently, Madrox has reformed somewhat and the recent X-Factor series written by Peter David saw Madrox working as a private detective. Given that Fox is looking to expand on the types of stories it tells within the franchise, a noirish detective story drawing from this series might be a good way to go.
Kinberg and Franco have already collaborated on the in development The Hardy Men. That film sees Franco pairing with his brother Dave Franco to portray the grown up versions of the classic kid-lit detectives The Hardy Boys.
There is no release date yet for Multiple Man, but presumably it would be in theaters at the earliest in 2019. Next year sees Fox releasing three X-Men franchise films – director Josh Boone's horror-tinged The New Mutants on April 13, the anticipated Deadpool 2 with Ryan Reynolds on June 1 and X-Men: Dark Phoenix on November 2. The studio also has in development a film featuring fan favorite hero Gambit, who will be played by Channing Tatum and another X-team film, X-Force.