"Oh, man, this is the first time I've ever been shot… I'd like to know who the fuck did it."
With that improvised line at the end of the February 21, 1981 episode of Saturday Night Live, cast member Charles Rocket earned himself a rather infamous place in the show's history with his utterance of the the dread F-bomb – fuck. But while he is probably the most famous of all the performers who said "fuck" live from New York on a Saturday night, Rocket wasn't the first nor the last to say it.
Who Shot Charles Rocket?
The 1980-81 season of Saturday Night Live was a turbulent one for the show. After five years of it being the toast of the town, creator and executive producer Lorne Michaels decided he needed to take a year off from the show. In response, NBC promoted associate producer Jean Doumanian to oversee the show, a move that prompted the remaining NOt Ready For Prime Time Players – John Belushi and Dan Aykroyd have left the previous season – to quit en masse. Understandably, the new cast – featuring Rocket. Gilbert Gottfried, Ann Risley, Denny Dillion, Gail Matthius, Eddie Murphy and Joe Piscopo – was under a lot of scrutiny. As Gottfried would later comment "It was like if in the middle of Beatlemania, you said, 'Okay, John, Paul, George and Ringo are leaving and we've got these four other schmucks you've never heard of and they'll be the new Beatles.'"
Reviews were bad and the ratings plummeted as the cast and writers struggled to bring the show to the air each week. Finally, for it's eleventh episode with guest host Charlene Tilton, someone had the bright idea to do a running bit through the whole episode parodying the shooting of Larry Hagman's popular JR Ewing character on the popular prime time soap opera Dallas the previous year. (Hagman had originally been approached to host the episode and when he passed the show reached out to Tilton, another Dallas cast member.) Of course, given that the answer to that question which dominated pop culture the previous summer had been revealed three months earlier on a November 1980 episode of the show, America had pretty much moved on, leaving the whole "Who Shot Charles Rocket?" premise feeling already dated.
That night, during the last commercial break as the cast gathered on the show's main stage Home Base, word came down from the control room that they were running a little short and to have Tilton improvise a little bit as she says her thank yous and good nights. With the cameras back on, the actress turned to Rocket, still continuing the ongoing bit in a wheelchair and dressing gown, and asked him "Charlie, how are you feeling after you've been shot?" While Rocket seemed unaware of what he just said, his castmates' faces betrayed their shock and amusement.
Ironically, in the episode as available for streaming on Peacock, most of the "Who Shot Charles Rocket?" running gag setup, including the part where he actually gets shot towards the end of the episode has been excised while the Good Night sequence with him saying "fuck" is intact and unbleeped. The sketch, a talk show parody with a fairly sleazy host, in which Rocket was "shot" opened with Eric Clapton's "After Midnight" playing, so its exclusion from the show is most likely due to a music rights issue.
Contrary to urban legend, Rocket was not immediately fired the day after the episode aired, as he appeared on the show's next new episode two weeks later. He did however, get called on the carpet by NBC executives and had to do what amounted to an apology tour, meeting with several members of the network brass to offer his mea culpas for what he did.
But the apologies were ultimately not enough to save Doumanian's short era of the show. After that twelfth episode, which featured guest host Bill Murray in the show's cold open giving the cast a pep talk, telling them to ignore critics and the ratings, Doumanian was fired along with Rocket, Gottfried, Risley and featured players Yvonne Hudson, Matthew Laurance and Patrick Weathers. The show would take five weeks off to retool itself under network executive Dick Ebersol, returning to the air on April 11, 1980. Unfortunately, a writers strike derailed the remaining six episodes planned, but ultimately it would give Ebersol even more time to overhaul the show for its return in the fall.
As for Rocket, saying "Fuck" is not quite the career-ender as some would think it would be. The actor continued to work steadily through the 1980s and 1990s with guest appearances on such shows like Miami Vice and Remington Steele, recurring roles on Moonlighting (as Bruce Willis's character's brother Ritchie Addison) and the cult cyberpunk series Max Headroom and in films such as Earth Girls Are Easy, Dances With Wolves and Dumb And Dumber. Tragically, Rocket couldn't overcome whatever demons he had that ultimately drove himself to commit suicide at his home in Canterbury, Connecticut in 2005.
Prince And Partyup
But was Rocket's F-bomb the only one uttered that episode? Some say that just a few minutes previously, the word "Fuck" can be heard in the song sang by a young 22-year-old musician from Minneapolis making his network television debut – Prince. Although the main musical act for that evening's show was Todd Rundgren, producer Doumanian liked to keep a spot open every week to showcase new talent and when she saw a video tape of Prince performing, she knew she had to have him on the show.
Although the release of his breakout album 1999 was still about twenty months away, Prince's star was already rising. He had released his third album, Dirty Mind just a few months earlier and he had recently served as the opening act for Rick James' 1980 Fire It Up tour.
For his SNL appearance, Prince choose the song "Partyup," a funky jam which included the line "Fightin' war is such a fuckin' bore, party up." Now it is safe to assume that someone, and most likely multiple someones, told Prince that the line would need to be altered for air. And during the performance,there was reportedly some conversation in the control room as to whether or not he did indeed say "freaking" or "fucking,"
Personally, I think it is fairly obvious that Prince is indeed saying "freakin'" but here is sequence for you to judge for yourself right at 1:13 mark –
Paul Shaffer
Keeping in mind its counterculture roots, it seems a bit incredible that Saturday Night Live managed to go 100 episodes before someone accidentally said "fuck " live on the air. It is more incredible to that that first utterance came from the usually mild-mannered Paul Shaffer. But that is exactly how it played out,
Although best known as David Letterman's long time band leader, Shaffer had been with SNL as a member of the house band since the show premiered five years earlier. (That is not counting a few months when he left to co-star in the extremely short-lived sitcom A Year At The Top with Greg Evigan.) By the fifth season, Shaffer was promoted up to the supporting cast, occasionally appearing in sketches.
And that's how Shaffer was part of the sketch "Medieval Band," a parody of the The Troggs Tapes, a bootleg recording of lead singer Reg Presley and drummer Ronnie Bond of the English rock band The Troggs arguing during a recording session that, while having been in circulation for some time, was becoming popular with the emerging punk scene. In the sketch, Shaffer plays the leader of a medieval band trying to get drummer Bill Murray to play a particular rhythm. As tensions rise, so does the use of the word "floggin'," until the point where Shaffer slipped up and said "fuckin'" at one point instead. If Shaffer or Murray noticed the slip up, neither of them let on in the moment. And the audience didn't seem to hear it either, as there is no reaction from them. The slip seemed to have gone unnoticed by those in the control room as well, as reportedly the show went out unedited during its West Coast airing a few hours later and again during its summer repeat.
Song Lyrics
Given the number of musical acts that have appeared over the show's four-and-a-half decade run it seems inevitable that some song would the word "fuck" would get performed without being altered. After all, these musicians played these songs so often that it is reasonable that they would conceivably slip and forget to use a substitute for an F-bomb in the midst of performing under the high pressure situation of being on Saturday Night Live.
Just a few days shy of the ninth anniversary of Charles Rocket, and possibly Prince's, F-bombs, Steven Tyler let fly during Aerosmith's February 17, 1990 appearance, singing "feedin' that fuckin' monkey on my back" during their performance of "Monkey on My Back."
On the October 20, 1990 episode, musical guest Morris Day and the Time performed the song "Chocolate," towards the end of which Day cried out "Where the fuck this chicken come from? I thought I ordered ribs!"
When System Of A Down were invited to play on the show's May 7, 2005 episode, the network knew that they were inviting a band known for its strong political messages. And the group did not disappoint, insisting that they perform their anti-Iraq War song "B.Y.O.B (Bring Your Own Bombs)" completely unaltered, including five instances of the line "Where the fuck are you?" Lorne Michaels agreed, under the proviso that they would bleep the F-bombs for the air. And that seemed to work out fine – as opposed to when they tried it with Samuel L Jackson (see below). But right towards the end of the song (at the 4:03 mark in the video below), guitarist Daron Malakian stepped up to his mic and let loose with a "Fuck yeah!" that slipped past the censor manning the audio in the control room.
All music performances were cut from episodes from season six through to season 40 due to licensing costs for streaming, so these performances won't be seen in any official capacity any time soon.
The 1994 Triple F-Bomb
It generally seems like the show goes for years without someone slipping up and saying "fuck" live on the air. But 1994 stands out as it happened not once but three times within seven months.
For SNL's Season 19 finale on May 14, 1994, Janet Jackson was booked as the musical guest. With her two most recent albums – Rhythm Nation 1814 and Janet, a starring role in the film Poetic Justice and a controversial Rolling Stone magazine cover appearance in which she appeared topless with her breasts covered by her husband's hands the previous September, Jackson was very much in the pop zeitgeist of the moment. And as such, it seems no one really seemed bothered when she slipped a "fuck" into her live performance of the song "Throb." Ten years later though, people would be bothered by her infamous "wardrobe malfunction" during the Super Bowl XXXVIII halftime show.
When REM performed their hit song "What's The Frequency, Kenneth?" during their November 12, 1994 appearance on the show, lead singer Michael Stipe left the song's lyric "I never understood, Don't fuck with me." intact as he turned his back to the audience for that line. This was the first time that the group performed the song on television, as the album it is a part of, Monster, had been released just two months earlier. There is a notable music stand on stage near Stipe's microphone, so it is possible that he had a lyrics sheet on it for reference. If so, he could have had the edited line on the sheet. However, since he didn't sing an altered line and turned his back to the audience, Stipe's F-bomb seems very much intended.
R.E.M. – What's the Frequency, Kenneth? [Live 1994] [Pro-Shot] from laundromatlock on Vimeo.
Just a few weeks after Michael Stipe's F-bomb, on December 14, Adam Horovitz of the Beastie Boys dropped one of his own, with the line "So won't you fuckin' listen" in their performance of their classic hip-hop song "Sure Shot." If Lorne Michaels was upset with the group, he still let them do their second musical spot in which they performed "Ricky's Theme" and "Heart Attack Man."
The 1997 Two-Fer F-Bomb
While not as copious as 1994, 1997 still saw two different droppings of F-bombs – one from a cast member and one from a musical performer.
On the April 12, Weekend Update segment host Norm MacDonald stumbled across the line reading of "Last weekend in Washington, a new museum dedicated to broadcast journalism – " and then mumbled more to himself than out loud, "The fuck was that?" As the audience laughed, MacDonald calmly declared the segment "My farewell performance!" (The flub is muted on the segment on streaming platforms.) Reportedly, the F-bomb didn't cause much of a stir, with the NBC only receiving five calls over the incident. Three were in support of MacDonald.
Actually, MacDonald would stay with the show for another year, ultimately getting dismissed at the start of February 1998. But that was more to do with MacDonald's continual jokes about the guilt of murderer OJ Simpson, who happened to be a personal friend of NBC executive Don Ohlmeyer.
(Ironically, in a profile of the show seven months after his F-bomb, Rolling Stone writer David Wild would dub MacDonald "a true believer in the Church of Not Giving a Fuck.")
The following December 6th, during Metallica's first spot of the evening, lead singer James Hetfield sang "Fuck 'em man, white knuckle tight" during their performance of the song "Fuel." No discernible blowback for the band.
Jenny Slate And Biker Chick Chat
For even seasoned cast members, the ninety minutes that Saturday Night Live is airing can be a nerve wracking experience. But if it is your first episode and you are appearing alone on stage with just one other cast member, the pressure must be enormous. That's the situation that Jenny Slate found herself in during the show's 35th season opener on September 26, 2009.
Slate was appearing opposite Kristen Wiig, who had already established herself as a powerhouse on the show, in the sketch "Biker Chick Chat." The conceit of the piece was simple, a talk show featuring, you guessed it, biker chicks who swear constantly. Naturally, the word "freakin'" is liberally used as Slate's biker chick character interacts with Kristen Wigg's biker chick. Needless to say in the midst of her patter, Slate slips and delivers the line "You stood up for yourself, and I fuckin' love you for that."
Contrary to what happened with Charles Rocket, there doesn't seem to be any blow back for Slate. She continued on the show through the rest of the season, doing strong work as a sketch character player. At the end of the season, though, her contract was not renewed, something that she has attributed more to not fitting in with the show than her season premier faux pas. As she stated in a 2019 interview with In Style –
By the way, everyone always thinks I got fired for saying f—k: I didn't, that's not why I got fired. I just didn't belong there. I didn't do a good job, I didn't click. I have no idea how [SNL creator] Lorne [Michaels] felt about me. All I know is, it didn't work for me, and I got fired.
But no matter what the consequences may or may not have been for Slate, the sketch has been edited out of the episode as it appears on streaming platforms. And while Slate would be the last cast member to drop an F-Bomb while live on the air, she was by no means the last person to do so.
Samuel L Jackson, What Did You Expect?
Anyone even vaguely familiar with the filmography of Samuel L Jackson knows that the word "motherfucker" is almost inextricably linked with the actor. So it should have been expected that on December 15, 2012 when Jackson had a cameo appearance as himself on the show in the talk show parody "What's Up With That?" featuring Keenan Thomas as the jeri-curled Diondre Cole, that the odds were better than average that an F-bomb could drop. And indeed it did.
In the sketch, Diondre Cole asks Jackson about some of the charity work he is helping with during the Christmas season, but before Jackson could completely answer, Diondre Cole would start riffing on what Jackson said and break into an improved gospel song, complete with dancers and backup singers. Finally, at the end of the sketch, Jackson is so upset he shouts out "Man, fuck – " and quickly follows it up with "This is bullshit!"
As the audience howls, Thompson tries to hold himself together and get control of the closing moments of the sketch. "Come on now Sam," he says. "Come on, that costs money."
As it turns out, Jackson was supposed to say those lines – actually the first line was "Man, fuck you!" – but they were to be bleeped by the control room for air. So Jackson isn't to blame so much as whatever audio technician happened to be asleep at the wheel.
And while, this sketch is still part of the episode on streaming services, Jackson's "fuck" and "bullshit" are muted rather just having a bleeped added later, restoring things to their original intent.
Kristen Stewart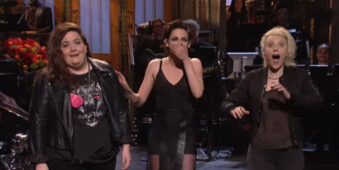 The second Saturday Night Live of the Trump presidency was a bit of a raucous affair. The previous week saw the show launch a broadside barrage at the incoming administration and was showing no signs of letting up. The February 4, 2017 episode featured a cold open with Alec Baldwin already firmly ensconced in the role of Donald Trump with the addition of Mikey Day as White House advisor Steve Bannon as the Grim Reaper and a now classic sketch later in the show featured Melissa McCarthy in her first appearance as Press Secretary Sean Spicer haranguing reporters about the crowd size at the Inauguration.
But the energy that host Kristen Stewart was exhibiting in her monologue seemed a bit more of the nervous type. She seemed game though to do comedy, something that she hadn't really done in her film work. Still she was self-deprecating enough to make fun of the fact that Trump had previously tweeted about her former relationship with Twilight co-star Robert Pattinson. After being joined on stage by SNL cast members Aidy Bryant and Kate McKinnon, Stewart starts to wrap things up be exclaiming that being on the show for her is "coolest fucking thing ev-" before she caches herself.
Stewart showed a quick wit and recovered by combining an apology, a plug for the show's musical guest and a joke that acknowledges that she is probably in big trouble with "Oh my god, and I'm sorry, and Alessia Cara is also here and I'll never come back."
Unlike Jackson's F-bomb, which was muted, Stewart's gets an audible bleep in the version that is available on streaming platforms, though on the SNL YouTube channel it is muted.
Sam Rockwell
The most recent F-bomber is actor Sam Rockwell, who was hosting the show on January 13, 2018. In the sketch "The Science Room with Mr. Science," Rockwell plays the host of a kid's educational show about science who is growing increasingly frustrated with his two junior co-stars' inability to understand the difference in density between water and oil. "You can't be this fucking stupid," he states at one point, to some howls from the audience. Rather than react to it, Rockwell, and SNL cast members Cecily Strong and Mikey Day as the two kids, continue on through.
What made the incident a little more notable this time, was that this was one of the first episodes of the show that was airing live across the entire country. Previously, NBC delayed the airing of SNL in the Mountain and Pacific time zones to keep it in its late-night slot. So when Rockwell dropped his "fuck" it was not even 9 o'clock on the West Coast. However, since the network was delaying the Mountain and Pacific Time Zone feeds by a few seconds they were actually able to catch and mute the bomb.