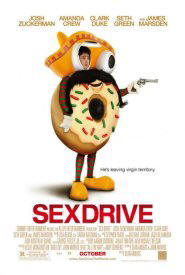 Imagine my surprise when I was handed 3D glasses to see the upcoming comedy Sex Drive. I found the gesture a little suspicious, thinking this was an interesting, yet facetious ploy possibly rivaling the gimmicks of Micheal Todd Jr.'s Smell-o-vision or William Castle's Percepto featured in The Tingler. Endless, corny taglines kept running through my brain but they quickly dissipated when I was informed the theatre had made a mistake; alas, the movie wasn't in 3D. Ah well, no matter because the uproarious outrageousness of Sex Drive continually delivers.
Poor Ian (Josh Zuckerman – with the amalgamated looks of Jason Biggs and Schwartzman) is eking out a pitiful existence during the last summer of his youth. He toils away his days at a Mexican donut shop in order to make a buck, yet his real concerns don't involve serving donuts. He's still a virgin and desperately needs to become a man before college. An unexpected door opens for Ian when the object of his cyber-affections (Ms. Tasty) assures him one glorious night of sex – if he makes a road trip to Knoxville. Of course, our atypical last American virgin Ian frets and sweats and is not overly confident. His close friend Lance (Clark Duke) convinces him that going all the way is imperative and a road trip is absolutely required. After "borrowing" Ian's older brother's '69 GTO, they set out for one night in paradise. There's only one problem. Their best bud Felicia (Amanda Crew) is along for the ride… to visit Grandma. Weirdness quickly ensues because Ian is stuck on Felicia who's stuck on Lance. The three head out on a crazy adventure, meeting up with a deranged hick, a lunatic hitchhiker, and a group of Rumspringa-celebrating Amish.
From Van Damme jokes to just silly situations, the movie never lacks for laughs, colored with sexual innuendo or otherwise. Heck, even the design of the Senor Donut mascot imparts unbridled raucous laughter, rivaling the guffaws elicited by the giant blue mascot seen in Kabluey (2007), especially when it acquires an extra appendage.
Much of Sex Drive's success comes from largely from the excellent work of its unknown trio of stars, however, Clark Duke steals most of the attention in the film. He is awesomely refreshing as Lance, a pudgy, lascivious yet debonair nerdlinger who will soon be revered as a geekish deity at many a cafeteria table. He has a way with the ladies and is borderline narcissistic about it. But underneath the glaringly confident exterior lurks someone who simply wants love and respect. While at times we find ourselves laughing at him we can forgive ourselves, as Lance also possesses all the markings of a lovable nice guy.
The biggest names in the film are James Marsden and Seth Green. Marsden's hysterically goofy turn as Ian's older brother Rex will surely draw multiple accusations of stealing Bill Paxton's Chet from Weird Science (1985) and rightfully so, as he reeks of the same testosterone-filled, dim-witted hotheadedness. Nonetheless, the audience cheered whenever he appeared. And Green's comedic timing and genius can be witnessed as the dryly sarcastic Amish man who knows a thing or two about well, things.
Sex Drive might be the latest recruit in the new renaissance of quotable virginity-losin', sex-based fare aimed towards our nation's burgeoning youth. In fact, more recent offerings like 1999's American Pie, Superbad (2007) and Apatow's raunchy efforts may have laid out the more modern groundwork for this film. But ultimately, the movie gives a nostalgic tip of the hat to the golden age of American teenage sex comedies. These films informed our adolescence; they almost always depicted teens being humiliated by the very fact that they possessed a sex drive and agonized about how to deal with it. We children of the 80's appreciate Fast Times, Porky's, Losin' It, and even Private School with a deep veneration.
Without a doubt, teen comedies should be obsessed with sex, and this audience-pleasing wisdom is never lost on this hilariously funny and mostly original T&A romp. However, Sex Drive shouldn't be dismissed as another gratuitous excuse to show a whole lot of nakedness. With its persistent attention to character, the film also manages to flaunt a legitimate heart – ardently giving a crap about its lovable loser and his two endearing best friends – and is full of wonderful surprises that don't require 3D glasses to enjoy.