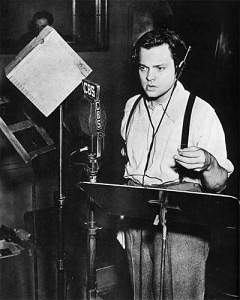 Seventy years ago this evening, Orson Welles and his Mercury Theatre Of The Air radio program presented their Halloween episode, an adaptation of H. G. Wells' (no relation) novel War Of The Worlds.
Much has been written, and not all of it is true, about the panic that is said to have been caused by the show's faux-newscast approach. While the opening of the show does tip the fact that what was to follow was nothing more than a fiction, many listeners came to the show late, having first been tuned to rival network NBC's The Chase And Sanborn Hour featuring Edgar Bergen and Charlie McCarthy for the opening monologue. It was easy to see how they might have been duped by the show's "We interrupt this broadcast…" conceit, as there was no commercial break for the first half of the hour-long episode.
But the power of the Mercury Theater's cast is what really sells the show. And what a cast. Many of them, most notably Joseph Cotton and Agnes Moorehead, would follow Welles to RKO Studios and Hollywood for Citizen Kane before going on to their own successful careers. But it was the notoriety that Welles would receive from this special Halloween episode that would generate for Welles the invitations to come to Hollywood to try his hand at movies. The rest, to coina phrase, is history…
(Of course, fans of The Adventures Of Buckaroo Banzai: Across The 8th Dimension know that the broadcast was really a news report of the escape from their extra dimensional prison of the evil red lectroids of Planet 10 and the Welles was hypnotized into covering up the incident by saying it was "just" a radio show…)
You can hear the complete broadcast for yourself at the Internet Archive. The Archives also has the Mercury Theatre's adaptation of Bram Stoker's Dracula, which is pretty scary in its own right.