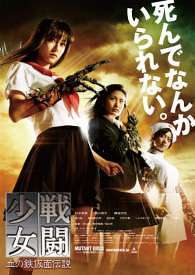 What more does one need to know about a film like Mutant Girls Squad that you can't discern from the title? There is a girl who discovers that she is a mutant and joins a squad of other, similar girls in what is very probably the Citizen Kane of movies about squads of mutant girls. But if you need to know more, read on.
Rin is a lonely high school girl, bullied by the other girls in her class. But when she is pelted with shoes by her classmates on her sixteenth birthday, Rin discovers that she suddenly has the ability to fight back when her right hand turns into a nasty, lethal claw and she has the fighting skills to use it. Freaked out by how she was able to so easily wade through her tormentors, she races home to tell her parents. Her father reassures her that this is not some curse, but a "treasure" and as he reveals himself to have a mutation of his own, their home is invaded by armed men. Although she escapes with her life, Rin's parents are killed.
Wandering the streets, Rin is found by the mysterious Rei, who takes her to an abandoned warehouse where she is introduced to other girls all like Rin. She learns that she is not human at all, but of a race called the HILKO. All the girls have different mutations and are being trained to fight back against a secret government initiative to exterminate all the HILKO. Rin excels at her combat training and is given a mission to assassinate some top government officials which she does with ease, somehow never getting the copious amount of blood that sprays about on her immaculate white vinyl outfit. But when she is ordered to kill the officials' families as well, she realizes that she can't, even though one of them is one of her former bullying cast mates. Realizing that the HILKO's plans are as equally genocidal as the government's, Rin finds herself trapped between the two warring parties.
Mutant Girl Squad is the brainchild of three directors -Tak (Be a Man! Samurai School) Sakaguchi, Noboru (Robo-Geisha) Iguchi, and Yoshihiro (Tokyo Gore Police) Nishimura. Reportedly, the three came up with the idea of working together on a film while drinking in a bar while guests at the New York Asian Film Festival in 2009, a story that no doubt tickles the NYAFF organizers pink. Each director brings his own unique stamp to the film. Much of the stylized action appears to be the work to Sakaguchi. Iguchi seems to have donated the flashback structure of RoboGeisha. (The weird nose guns sported by the government assassination teams in Mutant Girl Squad are another holdover from Robo Geisha, getting a black paint job in the process.) And it would be hard not to credit Nishimura with some of the weirder mutations that some of the girls sport. To tell you more about them, though, would be to spoil one of the more outrageous gags in the film.
All three director's contributions seem to mix fairly seamlessly together. If you're not familiar with any of their individual films beforehand, you may be hard pressed to tell that this is the work of a trio of directors. Mutant Girl Squad does nothing that will reinvent its genre of splattery, campy horror comedy. But then again, it exhibits no such ambitions, either. It's a film that wants to show you a bloody good time and succeeds in doing just that.